Subscribe to receive a weekly Palliser newsletter
Aug 16, 2017
Sunnyside School looks to Whoop It Up!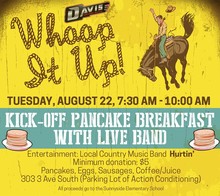 Some of our students, their families and staff in Palliser Regional Schools likely wish summer vacation would continue for some time to come. Others, however, are itching for the start of a new school year and all the excitement that brings with it.
Tuesday, August 22 will offer the opportunity for both those camps to celebrate a summer staple in southern Alberta, while keeping school needs in mind.
Whoop Up Days, Exhibition Park's annual summer fair, runs Aug. 22-26 in Lethbridge. The community always gets in the spirit, with various businesses and organizations hosting pancake breakfast and other feasts throughout the week. Donations are accepted at most, with a worthy cause the recipient of that generosity.
This year, Sunnyside School - Palliser Regional Schools' kindergarten to Grade 6 school just east of Lethbridge - will be a recipient. Davis GMC Buick and Exhibition Park are hosting a Kick-Off Pancake Breakfast beginning 7:30 a.m. on Aug. 22 in the parking lot of Action Conditioning, 303 3 Ave. S. For a minimum donation of $5, guests can chow down on pancakes, eggs, sausage and drinks while being entertained by a country music band, Hurtin'.
Proceeds will go towards supporting school field trips at Sunnyside School this coming year. The first day of school for students is Sept. 5.
Making the whole event more attractive is the fact Action Conditioning is right along the start of the Whoop Up Days Parade route. Patrons can get their fill and then stay to watch the procession, which will be led by a quartet of honorary parade marshals - all of them recent Olympians - in Rachel Nicol, Ashley Steacy, Heather Steacy and Zack McAllister. The parade begins 10 a.m.