Health & Wellness Initiatives
60 Minute Kids' Club Program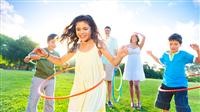 It can be a challenge to get kids to eat their broccoli and limit their time on the computer, but an online program sponsored by TELUS can make it easier for parents and teachers to promote healthy habits.
In keeping with Alberta Education's Health and Life Skills curriculum, the 60 Minute Kids' Club encourages students from kindergarten to Grade 6 to make well-informed, healthy choices and to develop behaviours that contribute to the well-being of self and others.
The program enables schoolchildren to get excited about making healthy choices and setting measurable daily goals such as completing 60 minutes of physical activity, eating five fruits and vegetables or getting eight to 10 hours of sleep.
Students enter their activities online daily to get points and reach goals, and they can track their progress on any device. At the end of the year, the school with the most annual points is rewarded with a field trip to a cool destination.
All resources for implementation are provided by the 60 Minute Kids' Club team. The team also supports in-school kick-off rallies, outreach and support to participating schools, as well as recognition and celebrations. More information about the program is available at www.60minutekidsclub.com.
Palliser's Wellness Fund Project
Palliser Regional Schools is a lucky recipient of a provincial Wellness Fund grant for 2012 - 2014.  The Wellness Fund is a join initiative between:
Alberta Education
Alberta Health Services
University of Alberta's Centre for Health Promotion Studies
Alberta Coalition for Healthy School Communities
The purpose of this Wellness Fund project is to create jurisdiction-wide momentum in promoting healthy nutritional choices, active living, and positive social environments. Two of Palliser Regional Schools' greatest obstacles are the massive geographic span of our schools, and the diversity of our students, staff, and communities. It is ultimately our goal to establish Palliser Healthy Initiative Teams in all of our schools and help keep the health and wellness of our school communities front and centre. 
We are excited about the opportunity to employ a comprehensive school health approach and turn our isolated efforts into high impact strategies. All of our school communities have the heath and wellness of our students at heart, and this project will provide the infrastructure to help promote priorities in each unique setting.