Health & Wellness Initiatives
60 Minute Kids' Club Program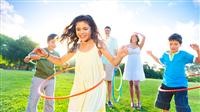 It can be a challenge to get kids to eat their broccoli and limit their time on the computer, but an online program sponsored by TELUS can make it easier for parents and teachers to promote healthy habits.
In keeping with Alberta Education's Health and Life Skills curriculum, the 60 Minute Kids' Club encourages students from kindergarten to Grade 6 to make well-informed, healthy choices and to develop behaviours that contribute to the well-being of self and others.
The program enables schoolchildren to get excited about making healthy choices and setting measurable daily goals such as completing 60 minutes of physical activity, eating five fruits and vegetables or getting eight to 10 hours of sleep.
Students enter their activities online daily to get points and reach goals, and they can track their progress on any device. At the end of the year, the school with the most annual points is rewarded with a field trip to a cool destination.
All resources for implementation are provided by the 60 Minute Kids' Club team. The team also supports in-school kick-off rallies, outreach and support to participating schools, as well as recognition and celebrations. More information about the program is available at www.60minutekidsclub.com.