Huntsville School build on track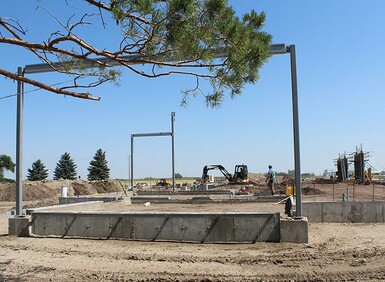 IRON SPRINGS – 'School work' doesn't end in Palliser Regional Schools when the last bell of the year rings for students.
Construction continues on the long-awaited replacement for Huntsville School, with the bones of the building now starting to rise up out of the earth. With significant site preparation required, progress on the $11-million project is much more visible of late, with walls going up over the coming days.
Although the recent storm caused havoc with some crops in nearby fields, the project did not suffer any damage which will delay the anticipated opening of the new kindergarten to Grade 12 school in the fall of the 2020-2021 school year.
Originally built in 1941 with the last improvements coming a half-dozen years ago, Palliser was initially seeking improvements to the school to fix issues including drainage problems. Plans were later updated to a major modernization, before a replacement school was approved in 2017.
A ground-breaking ceremony for the school build was held in mid-April. Classes will continue in the existing school this coming year, while the adjacent construction carries on.  The new school will have a capacity of 240 to accommodate the growing number of Low German-speaking Mennonite (LGM) students, which account for about 95 per cent of enrolment there.
The new school was designed by FWBA Architects, with input from staff and the community, and Lear Construction is the contractor. It will feature plenty of natural lighting, flexible learning spaces, a solar power element, a large gathering space, larger gym and a kitchen for Career and Technology Studies classes and community use.
Iron Springs is about 50 kilometres northwest of Lethbridge.