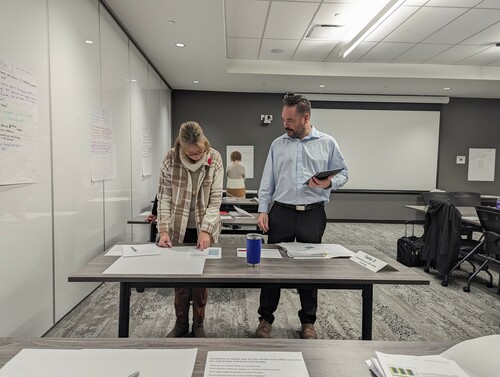 Board Meetings
The Board holds regular meetings monthly, except in July. Meetings are generally held on the second Tuesday of the month, although there may be exceptions to accommodate other commitments.
The schedule of Board meetings is established annually at the Board's organizational meeting. Any change to the meeting schedule after that time requires a Board motion.
Please visit this page monthly for agendas, minutes, and highlights of the Board's meetings. Copies of these documents can be found under the date of the meeting.
For more information on the Board meetings, please email Michelle Taylor by EMAIL or call her at 403-328-4111 or toll-free 1-877-667-1234.
Highlights from previous years have also been archived in our documents section.
12:00 PM — 4:00 PM Palliser Education Centre - Meeting Room C
9:00 AM — 12:00 PM Palliser Education Centre - Meeting Room C
9:00 AM — 4:00 PM Palliser Education Centre - Meeting Room C
9:00 AM — 4:00 PM Palliser Education Centre - Meeting Room C
9:00 AM — 4:00 PM Palliser Education Centre - Meeting Room C
9:00 AM — 4:00 PM Palliser Education Centre - Meeting Room C
9:00 AM — 4:00 PM Palliser Education Centre - Meeting Room C
9:00 AM — 4:00 PM Palliser Education Centre - Meeting Room C
9:00 AM — 10:00 AM Virtual
9:00 AM — 4:00 PM Palliser Education Centre - Meeting Room C
9:00 AM — 4:00 PM Palliser Education Centre - Meeting Room B
9:00 AM — 4:00 PM Palliser Education Centre - Meeting Room C
9:00 AM Palliser Education Centre - Meeting Room C
10:00 AM — 12:00 PM Palliser Education Centre - Meeting Room C
9:00 AM Palliser Education Centre - Meeting Room C
9:00 AM Palliser Education Centre - Meeting Room C
9:00 AM Palliser Education Centre - Meeting Room C
8:30 PM — 9:30 PM Virtual
9:00 AM Palliser Education Centre - Meeting Room C
9:00 AM Palliser Education Centre - Meeting Room C
9:00 AM Palliser Education Centre - Meeting Room C
9:00 AM Palliser Education Centre - Meeting Room C
9:00 AM — 12:00 PM Palliser Education Centre - Meeting Room C
9:00 AM — 11:00 AM Palliser Education Centre - Meeting Room C
9:00 AM — 4:00 PM Palliser Education Centre - Meeting Room C
4:30 PM — 5:30 PM Virtual
9:00 AM — 4:00 PM Palliser Education Centre - Meeting Room C
2:00 PM — 4:30 PM Virtual
1:00 PM — 4:00 PM Palliser Education Centre - Meeting Room A & B
9:00 AM Palliser Education Centre - Meeting Room C
9:00 AM — 4:00 PM Palliser Education Centre - Meeting Room B
9:00 AM — 4:00 PM Palliser School Division Central Office
9:00 AM — 4:00 PM Palliser Education Centre - Meeting Room A & B
9:00 AM — 4:00 PM Palliser Education Centre - Meeting Room C
9:00 AM — 4:00 PM Palliser Education Centre - Meeting Room A&B
9:00 AM — 4:00 PM Palliser Education Centre - Meeting Room A&B
9:00 AM — 10:30 AM Virtual / Meeting Room C
10:45 AM — 3:00 PM Palliser Education Centre - Meeting Room C
9:00 AM — 3:00 PM Palliser Education Centre - Meeting Room C
9:00 AM — 3:00 PM Palliser Education Centre - Meeting Room C