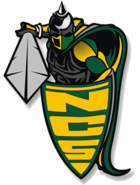 Noble Central School
Grades: Early Learning Program - Grade 12
Box 119
Nobleford, Alberta T0L 1S0
Phone: (403) 824-3817
Fax: Unavailable
Principal
Mr. Greg Rollingson
Administration
Administrative Assistant: Laine Clay
Introduction
Noble Central School is located in the village of Nobleford, Alberta. In the 2011 Census, the Village of Nobleford had a population of 1,000. At its current population, Nobleford is one of the largest villages in the province and is eligible for town status. It is located approximately 32 kilometers (20 minute drive) northwest of Lethbridge. The surrounding area is predominantly farmland with crops such as corn, wheat and alfalfa. There is also a thriving livestock industry in Southern Alberta.
The village is served by Noble Central School, a K-12 public school that opened in 1949. At Noble Central, we provide education to many of the children in the village and the surrounding rural area.
Motto
Where Good Things Happen!
Mission
Together we encourage success and compassion, model care and concern for others and instill a desire to learn and be contributing members of society.