Adopt-a-Family campaign gets a boost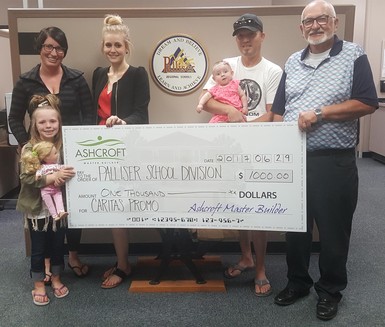 Christmas in June? Spring Merrill, sales consultant with Ashcroft Master Builder, recently dropped by Central Office with a cheque for Palliser Regional Schools' annual Adopt-a-Family Christmas campaign.
The $1,000-cheque was donated to the worthy cause on behalf of employee Shawna Barat, who is currently on leave. Everyone who bought Ashcroft's "Caritas" model home had a donation made to the charity of their choice.
Shawna, husband Les, their daughter Paisley and her newborn sister Brightyn  put their money behind Palliser's campaign which Palliser Regional Schools central office staff wrap presents for the annual Adopt-a-Family campaign. Principals across the region identified families in their schools that might be in need of some extra holiday cheer and central office staff donations allowed for a gift for each family member and grocery cards.