Calgary Teacher in the running for Future Goals Award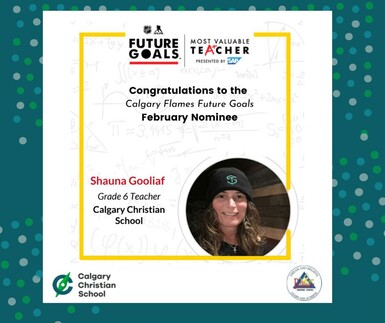 The Future Goals™ - Hockey Scholar program, brought to you by the NHL and NHLPA and of course, your local NHL club, the Calgary Flames - uses engaging lessons to teach #STEM concepts to Grades 4 to 7 students. The program helps students understand the real world applications of science and math principles.
We're excited to announce our teacher, Mrs. Gooliaff at Calgary Christian School, the Gr6 classroom, and our school district have been selected as a nominee for the for February's Future Goals award.  Gr6 math students at Calgary Christian School are currently using the program, which you can learn about here. 
As Mrs. Gooliaff shares,  "This is an online math program that is fun, engaging and an interactive way to reinforce math concepts while working your way to earning the Stanley Cup. Lessons include uncovering and painting the ice! Students think it's cool - hockey fan or not!"  This program is having a big impact on learning, and not just in math class.  Ms. Makila is part of the Grade 6 teaching team at CCS,  "As a science teacher, the Everfi sponsored program offers great supplementary activities for students to complete in a fun and interactive way."
In keeping with the spirit of sport, we know every player contributes to their team. We appreciate Mrs. Gooliaff's work with this program in our math classes which complements well with the other skills our students are mastering.  What an honour to be one of twenty teachers, in the month of February, being considered for this award. The teacher selected as this month's finalist will win a personalized NHL club jersey and a $10,000 technology grant for their school district to help bring Science, Technology, Engineering and Mathematics  (STEM) concepts to life for students. 
Visit NHL.com/MVT and vote once a day, every day, for Mrs. Gooliaff and an opportunity to win this month!