Champion students think global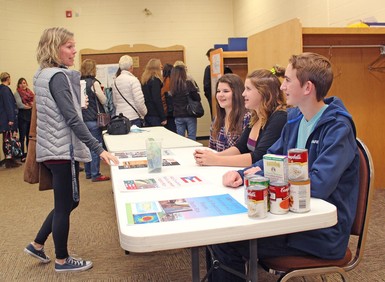 VULCAN – For some teens, an extra day to sleep in outweighs just about anything.  Not so for Natalie Sordahl and some fellow students from Champion School.
She and two other members of the school's Grade 9 WE Team arrived bright and early at County Central High School on a day off for students due to a division-wide professional development opportunity at two Palliser Regional Schools in Vulcan.
With their thoughts beyond their own needs and comforts, they manned a table to accept donations from passing Palliser staff on behalf of hurricane survivors in Puerto Rico.
Sordahl says the chance to help those less fortunate was well worth getting up early on a day off.
"I just feel so bad for them," she says of victims of Hurricane Maria. "I can't imagine living without power or not having a place to charge my phone. Or not having enough money to get food, or lights, or blankets, or any of those things."
The Champion students started collecting donations of both money and goods the week prior, after learning of the relief efforts of village resident Maria Colon. Born and raised on the small island of Vieques, off the coast of Puerto Rico, she lost two family members in the wake of the devastating hurricane.
"Since Champion is so small, it is very connected. If Maria is doing something, everybody knows about it," says Sordahl.
The eight members of the school's WE Team met favourable response from everyone they approached for donations, she says, adding extensive news coverage of the hurricane's damage certainly helped create awareness of the need.
Colon will be personally escorting the donated items to Puerto Rico and using the money to purchase more items of need and loading them onto a shipping container leaving soon for Tampa, Florida.
The WE movement believes that when we come together we can create an even better world.  In order to earn tickets to the annual WE Day event nearest them, schools take on a local cause as well as one that impacts others elsewhere around the globe.
Sordahl says Champion School's WE Team hasn't yet officially chosen its local cause, but the students traditionally pitch in to help local Communities in Bloom efforts.
For more information on the WE movement, go to https://www.we.org/we-movement/