Coalhurst High School students bring D-Day studies to life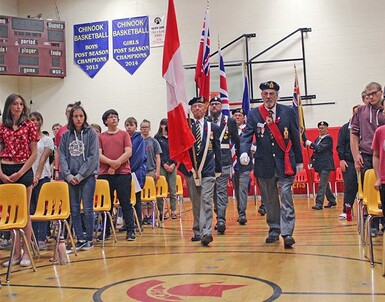 COALHURST – Countless Canadians paused for a moment to recognize the significance of D-Day on the occasion of the 75th anniversary of that momentous Second World War battle. For a class of Coalhurst High School students, however, the day was more than just a passing remembrance.
Students enrolled in Michael Saad's History of War class researched, produced and hosted a ceremony which featured a number of community partners including the local Legion branch and the Korea War Veterans.
Oshiana Chernoff, a Grade 11 student in the locally-developed option, said it's important to recognize the sacrifices made by members of the Canadian Armed Forces, as well as their allies across the beaches of Normandy.
"We are getting so far from those events in the past, and people are knowing less and less and becoming distant from it," said Chernoff, who helped make posters to advertise the ceremony. "It's important to remember the soldiers who fought for us. They shaped Canada. We all shape Canada."
The event began with a presentation at the school, which included a brief history of the D-Day battle and the events leading up to it, as well as its significance. Not only was it pivotal in securing a Western foothold in Nazi-occupied Europe, it expedited the Allies march towards Berlin.
Two Coalhurst and area veterans who served at Juno Beach on D-Day were also honoured posthumously. Lawrence Joseph Daly was killed in that battle, just days after his 21st birthday. Gordon Alexander Cox was a tail gunner for the air force and was on an aerial mission on June 6, 1944.
Daly is already part of the Coalhurst High School Hall of Honor Memorial Veterans' Project, which sees students research and then commemorate the lives and services of those from the community who served the cause for global peace. A plaque recognizing Cox, who had family members in attendance, will go up in the school this fall.
Saad said the goal of the Hall of Honor is to help students make local connections with world events in order to bring it all 'home.'
"It is also intended to showcase the contributions of Coalhurst-and-area veterans to the larger story of Canada's military history, so that kids can see their community, its people and families, certainly did their part in that story," he said, adding the oral history process, interviewing, and research that goes into the project is also of benefit to the students.
The service ended with a march to the community Cenotaph, and the laying of wreaths by school members, veterans and other guests.
Kristine Cassie offered the appreciation of the Palliser Board of Trustees for the work done by students and staff from Coalhurst High School, local veterans and all others involved.
"The work you have done exemplifies the pride of citizenship and deep-rooted sense of community that is desperately needed in this country and around this world," she said, adding Juno Beach is a stark reminder about the fight against hate and the fight for democracy. "Thanks to all involved for ensuring these hard fought battles against injustice are not forgotten."
Saad was singled out for his work in support of those who have served their country and the many who made the supreme sacrifice. Gordon Brown, of the Korea Veterans Association of Canada (Chinook Unit #33 Heritage) presented the Palliser Regional Schools teacher with a plaque for his ability to portray Canadian military history in a "factual, respectful and interesting manner."
"The purpose is certainly not to glorify war, but to help students understand the root, recurring causes of conflict through history," said Saad of his course.
He created the History of War upon the encouragement of students, who had been asking him for a more in-depth look at various wars than Social Studies curriculum provides. After working on military dioramas earlier, the students were to wrap things up with a visit to the Lethbridge Military Museum followed by some war-themed board games and virtual reality simulations.