Coalhurst High student shares love of science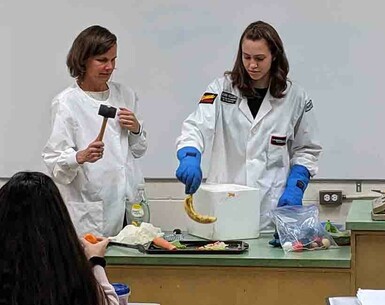 SarahAnn Walker, a Grade 11 student at Coalhurst High School, is passionate about the sciences and sharing that passion with others.
Under the guidance of teacher Ben Swen, Walker has started a Science, Technology, Engineering, Arts and Math (STEAM) club that runs during the lunch hour once a week. There, students in Grades 7 to 12 c can join in fun activities related to those disciplines.
To get the group going, Walker successfully applied for a Youth in Action Grant through the Community Foundation of Lethbridge and Southwestern Alberta. The $1,600-grant will go towards materials needed for the activities, as well as a planned field trip to a local cloning lab.
Swen says it's great to see such leadership and initiative from a student to give back and grow the sciences at Coalhurst High School.
The Community Foundation manages charitable gifts from generous donors in permanent, income-earning endowment funds, and distributes the interest earned to the registered charities those donors wish to support.
The Youth in Action grant funded projects which are initiated, led, and organized by individuals or groups aged 25 or younger, in collaboration with a charity or school.
Grants can be applied for in any amount up to $2,000. For more information on the Community Foundation and available grants, go to http://www.cflsa.ca/