Coalhurst High teacher tops in his field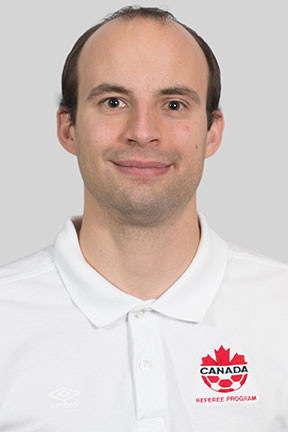 COALHURST – Like his students at Coalhurst High School, Micheal Barwegen knows that making the grade is only the beginning.
The Palliser Regional Schools' teacher and long-time soccer official has earned recognition which places him among the top in his field. Barwegen was named by the Canadian Soccer Association to the Fédération Internationale de Football Association (FIFA) International Referee List.
Those credentials could open the door for him to serve as an assistant referee for more international matches, with the Olympics and World Cup at the apex. Barwegen realizes, however, he'll only get out of this opportunity what he puts into it.
"It's all about working your way up and making sure you are staying on top of your stuff," he says. "There is not a badge higher than the one I have, but now it's trying to be the top of the list of the 3,000 FIFA people in the world, or whatever it is."
The next step will be an officials training camp in February and new referee camp, before an international tournament south of the border this spring. If Barwegen acquits himself well, assignments could follow for international "friendlies" and other matches, likely in North and Central America.
With greater expectations of him now, Barwegen hopes a strong season wherever he officiates could land him a match he wouldn't have otherwise had a shot at.
"From there, who knows what the future might hold on that international scene," he says.
Barwegen may still have mountains to climb, but it's been a long although satisfying journey to get to this point. He began refereeing as a 12-year-old growing up in Coaldale and says he was fortunate there was a high level of soccer being played in the area and a lack of officials.
He moved up through the ranks, officiating Alberta Major Soccer League, college and university action and eventually worked the North American Soccer League. This past season he officiated in his first Major League Soccer (MSL) contest and then a Canadian championship game and qualifier for the FIFA Club World Cup.
The opportunity to officiate at the professional level and share the field with players he may have seen compete for their country at the World Cup whet his appetite for more.
One thing he doesn't aspire to is moving from a role of assistant to head referee. Once an official gets to his level they choose their path. While Barwegen considers himself a good referee, he says his particular skill set and personality makes him a "very good" assistant referee. 
He's also quick to acknowledge that officiating soccer isn't a realistic career path for him.
"It's nice to have that hobby, and that's what it is, a paid hobby," says Barwegen, noting there's only 14 full-time head referees in all of North America.
Now in his sixth year of teaching at Palliser, he's very appreciative of the support and flexibility both school and senior administration have allowed him in venturing down this path. Juggling work, soccer and life is something he's grown accustomed to.
"In the middle of the season, when you are training multiple days of the week while you are marking your (students') papers and you're sorting all of that out, it's part of who I am now, and it's defined me as person since I grew up," says Barwegen.