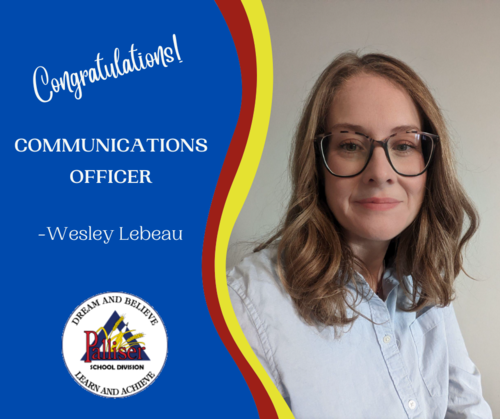 We are pleased to announce that Wesley Lebeau has accepted the role of Communications Officer commencing September 19, 2022.
Wesley has been working in media and communications for almost 20 years. She began her career at Global News, Lethbridge after attending Concordia University's journalism program. Her career led her to Toronto where she worked in film and television production for many years before pivoting to media relations. She has worked on shows for MuchMusic, Television Ontario and Slice TV. Most recently she produced cross-Canada promotional media tours focusing on national and local morning broadcast programming.
She recently moved back to Lethbridge with her husband, Morgan, and her two children, Jasper and Augusta. She is very excited to take on this role within the Palliser School Division, "I have a lot of amazing teachers in my family and I'm so grateful that I can contribute, in my own way, to this legacy just as my own children begin their education journeys."
In her spare time Wesley enjoys exploring and camping in Southern Alberta and BC with her family, and scribbling in her sketchbook as they go.
Congratulations Wesley!