Dawnyshia Dykshoorn New Vice-Principal at Trinity Christian School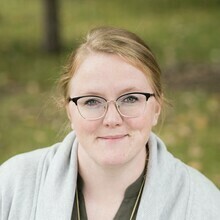 The Palliser School Division is pleased to announce that Dawnyshia Dykshoorn has accepted the role of Vice-Principal at Trinity Christian School, commencing August 25, 2021, for the 2021-2022 school year.
Dawnyshia completed a Bachelor of Arts with a major in General Social Sciences (Anthropology, History and Sociology) from the University of Lethbridge in 2006.  Dawnyshia later earned a Bachelor of Education (After Degree) majoring in Elementary Education from King's University College.
Spending her entire teaching career with Trinity Christian School, Dawnyshia has taught for 13 years covering various subjects from grades 5 to 9, mostly focusing on math and over the past 3 years, Language Arts.  For the last 6 years, she has been the Christian Curriculum Coordinator at Trinity.  In this role, she oversees the Bible curriculum, service projects, chapels as well as leading professional development for staff in the area of Christian transformative education.
"The deep hope that I have as an educator is that all of my students will delight in who God has made them to be and, in turn, they will boldly engage, explore, and respond to their role in His story and world."  Ralph W. Emerson said that, "Every artist was at first an amateur."  "It is my hope that my students will not allow the fear of getting something wrong stand in the way of their God-given curiosity and love of learning.  Building and maintaining strong relationships with my students and fellow teachers is always my most important task as a classroom teacher," notes Dawnyshia, "I believe that then students will be much more willing to be vulnerable enough to give something new a try."
Her interests include spending time with family and friends.  She enjoys reading, dinner out with friends, board game nights, playing sports (especially volleyball and softball), and cheering for the Edmonton Oilers.  She is a proud Auntie to four nieces and nephews with a fifth on the way.  One of her greatest teaching experiences so far has been teaching alongside her brother in a team teaching assignment with a Grade 8 class one year.
Dawnyshia feels truly blessed by the staff, students, and parents of Trinity Christian School throughout the last 13 years and she is absolutely honoured to be able to continue to serve the TCS community in this new way.