Dorothy Dalgliesh students experience U of L tradition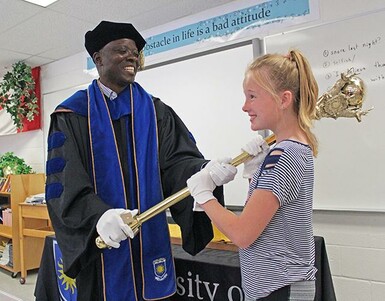 PICTURE BUTTE – It might be a challenge for Grade 6 students to see much beyond next week, but Olu Awosoga challenged Mitchell VanDyk's class to envision a possibility well into the future.
The chief marshal for the University of Lethbridge told the Dorothy Dalgliesh School students he wouldn't be surprised to see one of them fill his shoes one day, and be the keeper of the institution's gleaming, bronze mace.
Palliser's Picture Butte elementary school was one of just five southern Alberta stops for the mace, which Awosoga will carry aloft as he leads a lengthy parade of graduands into the U of L convocation May 30-31.
It is the chief marshal's privilege alone to hoist the symbol of the university's authority to grant degrees, diplomas and certificates. After putting on white gloves, however, the students were allowed to pose for photos holding the eight-kilogram mace.
Dressed in full regalia, Awosoga explained the history of maces, which were originally medieval-era weapons. He pointed out the significance of the various elements of the U of L mace – including a mortarboard, gavel and globe set in Pronghorn antelope antlers. Created by Corne Martens, a sculptor and artist from Coaldale, it was dedicated for use in 1988.
The chief marshal, he added, is appointed from among the members of the university's academic staff by the president and vice-chancellor.
VanDyk tied in the tour stop with the Grade 6 social studies curriculum, which includes provincial government. His students prepared questions for their visitors, which included members of the U of L senate.
While Awosoga has likely fielded a number of similar questions in his three-year term as chief marshal, the Dorothy Dalgliesh students may have offered up a few new ones, based upon the broad smile they elicited. 'No,' the mace has never been stolen, nor has it been dropped, he answered, showing off the sure hands which guard against the latter.