Evening of jazz supports HCA music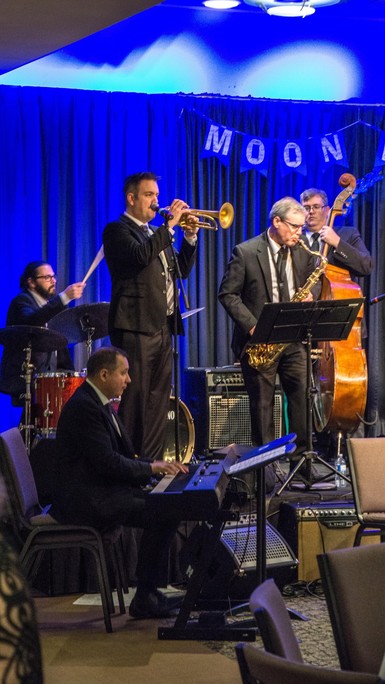 CALGARY - The Senior High Music Program at Heritage Christian Academy (HCA) is excited to partner with professional Jazz musician, Johnny Summers and a quintet of musicians from the Calgary Jazz Orchestra, to bring Moonlight Jazz: an evening of music, dessert and fundraising.
Tickets are available at hcacalgary.com for the event on Friday, February 16, 2018 being held at First Alliance Church in Calgary.
Johnny Summers has partnered with HCA's Annual Moonlight Jazz fundraising evening for four years, and his passion for jazz and incredible talent has been an immense blessing to the school.
"I love working with the next generation," Summers says. "Using music as a vehicle to teach expression, confidence, discipline and so much more to the students, and seeing them light on fire when they hear professional musicians is extremely rewarding. The music program at HCA is cutting edge in their inclusion of study and listening time with professional musicians, and I am proud to be a part of that."
Secondary Music teacher, Torri Airhart has been teaching and developing the award-winning music program at HCA since 2004.
 "The success of HCA's music program stems from hard work, dedicated students and families, a supportive school leadership team. Plus, we have the incredible opportunity we have to partner with professional musicians who are passionate about mentoring and sharing their expertise with our students," Airhart says. "I hope you are able to join us for Moonlight Jazz this year – you're guaranteed to hear excellent jazz and support great students at the same time!"
Funds raised at Moonlight Jazz are used to provide student bursaries for annual music tours and competitions, and also support the school's ability to purchase instruments for the music program. A partnership between HCA's Music Program and the Heritage Christian Education Society provides a small percentage of the proceeds which go to support the school's overall mission.
If you are interested in attending or sponsoring the 2018 Moonlight Jazz event, visit hcacalgary.com and click on the Moonlight Jazz image on the homepage.
Heritage Christian Academy (HCA) is a kindergarten to Grade 12 school located in northeast Calgary with approximately 600 students representing over 100 Christian churches. Founded in 1979, HCA has remained committed to their mission of equipping students for life through quality Christian education that inspires commitment to Jesus Christ and excellence in academics, moral character and service to others. The Heritage Christian Education Society Calgary (HCESC) has operated the school in partnership with Palliser Regional Schools since 2006 as a Faith-based Alternative Program.