First day, big day for teachers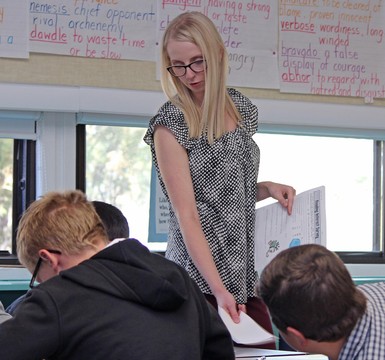 IRON SPRINGS – The first day of a new school year brings with it a mixture of feelings and in that regard, Ashley Malcomson was no different than her students at Huntsville School.
She was excited to begin her teaching career and see how all the work she put into her classroom went over with her students. Malcomson was also a little nervous about breaking the ice with 45 new students.
"My first day went really well. It wasn't nearly as scary as I thought it would be as a brand new teacher," said the recent University of Lethbridge grad, who's teaching language arts and social studies to Grades 6 through 9.
Her only prior knowledge of Iron Springs – a hamlet northeast of Picture Butte – was driving through it on the way to a practicum assignment in Enchant. Malcomson said staff, students and parents, however, all provided a very welcoming environment on her first day.
She praised the assistance already provided by Julie Milne-Yanke, and the guidance still to come from her mentor-teacher.
"She is always available and provides a listening ear, with lots of great suggestions," said Malcomson. "And she left me a lot of resources, which as a new teacher, are really helpful."
Resources and tips shared with her and other first-year teachers at Palliser's induction and mentorship program this summer also proved helpful. Malcomson leaned heavily on one of those resources, Harry Wong's book "The First Days of School," to create seating plans and come up with strategies to get students' attention.
The first day of school was also a learning experience in the classroom next door, even though Kevin Holland was kicking off his 28th year of teaching. He's moved over from Kate Andrews High School in Coaldale, where he did all of his teaching, with the exception of a half-dozen years at R.I. Baker Middle School.
"Obviously it's a big change, dealing with a lot younger students in a totally different setting," said Holland, who will be teaching math and science to Grades 6 through 9 as well as phys-ed. "It wasn't a situation where I was nervous, but I was certainly curious as to how things would work and how things would be different compared to a straight high school setting."
He thought his first day went well, and came to the realization that "kids are kids" and they all tend to respond to positive energy.
Huntsville School has an enrolment of about 125 students in early learning through Grade 9, with a predominantly Low German-speaking Mennonite student population.
Among the biggest challenges Holland sees in his new environment are learning the community, working within the community and establishing positive relationships with the community.
He requested the move to Huntsville School and doesn't have second thoughts about his decision.
"I was looking for a change, and a change where I could still teach primarily the subjects I enjoy. I was also looking to slow down the extra-curricular commitments and this presented a perfect opportunity," said Holland, who coached countless high school teams over the years and recently started to feel the wear  of daily, on-ice sessions with the KAHS hockey academy.
Last spring the province announced it will replace Huntsville School, sections of which date back to 1941, with a new building.
Ferrari Westwood Babits Architects have begun developing plans for the new school, including site selection, in a process that will take them through architectural design. Construction of the new school is expected to begin in the summer or fall of 2018, with a potential opening date of September 2020.