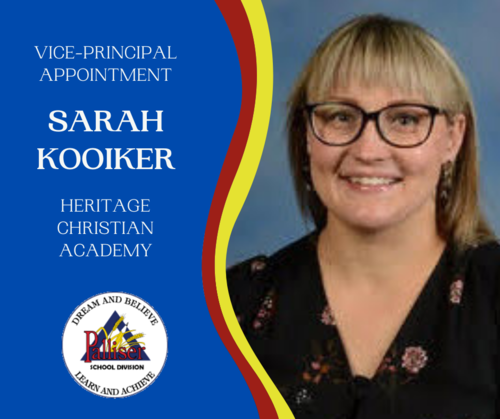 We are pleased to announce that Sarah Kooiker has accepted the role of Vice-Principal at Heritage Christian Academy, commencing August 22, 2022.

Sarah received her Bachelor of Education with an Elementary Education major from the University of Alberta in 2008. Sarah taught in Black Gold School Division in 2008-09 before joining Palliser
in 2009 at Heritage Christian Academy.

Married to her husband Darryl for 15 years, they have 3 children (10, 8 & 6) and a dog. Darryl is a firefighter with the City of Calgary and life is busy with kids: sports, church activities and keeping up with friends. Sarah spends a lot of time cheering her kids on as they play basketball. The Kooiker's also enjoy getting away to their trailer in Sundre.

Sarah is a firm believer that every student has amazing potential and one of the exciting things about teaching is helping students find it. In addition, she also believes that every staff member impacts our students. Character development isn't bound by the classroom walls; it takes place in the hallway, library, chapel, and everywhere in between.

"I love our community here and I am excited to begin this new adventure as the Elementary Vice-Principal! I believe building relationships with all members of the school community is key for success. We are stronger together and I pray I will do well helping to lead the amazing team at HCA in all that God has planned for us."

Excited to start this leadership journey at Heritage Christian Academy, Sarah's teaching philosophy is relationship-focused, and she hopes to bring that into her leadership role.
Congratulations Sarah!