Jason Kwasny New Principal for Palliser Beyond Borders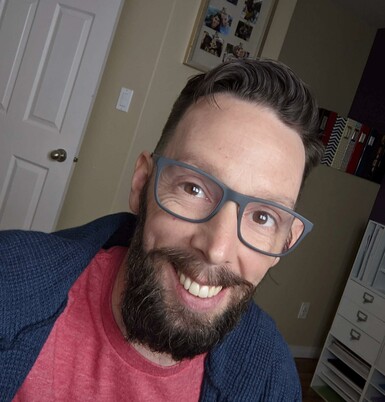 The Palliser School Division is pleased to announce that Jason Kwasny has accepted the role of Principal at Palliser Beyond Borders, commencing August 25, 2021, for the 2021-2022 school year.  Teachers and support staff from all PBB locations will be working with Jason to maintain strong professional relationships with the high schools in the communities that PBB serves to build a vibrant teaching and learning community that integrates both online and onsite instruction.
Jason earned his undergraduate degree from the University of Alberta in 1999, with a Bachelor of Science and a Bachelor of Education, and is presently enrolled with the University of Lethbridge; working on his Master of Education, specializing in Teaching, Learning and Neuroscience.
Jason's online experience is vast and includes implementing, updating, and maintaining digital competencies scope and sequence for Palliser students.  He also implemented the technology professional development library, including loaner hardware, for all Palliser staff.  Currently, Jason is a member of the Alberta Technology Leaders in Education (ATLE) and the Southern Alberta Student Film Festival planning committee.  As the organizer of the 2020 Southern Alberta Hackathon, Jason lent his knowledge and mentorship skills to promote data science for middle and high school students.
Starting his teaching career in Calgary in 1999, Jason taught math at Western Canada High School for two years until he joined The Palliser School Division in 2001 at which time he taught math at Picture Butte High School until his assignment as Technology Integration Specialist was created in 2014.
"I believe that all students can thrive given the right circumstances," states Kwasny. "PBB was created to make those circumstances available to students when and where they are in their learning.  I am excited to continue growing Palliser Beyond Borders as a model for online learning, which other schools are trying to replicate.  I value the efforts that everyone I work with puts into student success and look forward to building deeper relationships with the staff at PBB and working with them on their professional journeys."
Jason has a strong passion for student learning, academic success, technology integration, and professional development.  These are all qualities that he will bring to this role.
Married to his wife, Tracy, they have three sons.  Many of Jason's days are spent driving between sporting events and traveling.  The Kwasny family loves to travel and explore new locations, neighborhoods, or even just restaurants.  When he does get some time to himself, he enjoys escaping to the coulees or the mountains for a ride or run.  Congratulations Jason!