Kate Andrews students collect food for community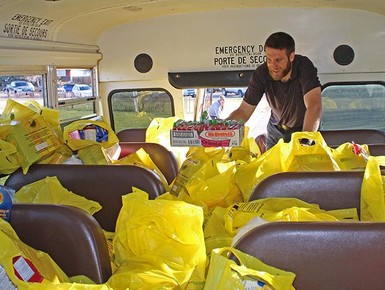 COALDALE – Forget all those jokes about the voracious appetites of teenagers. In this case, Kate Andrews High School (KAHS) students weren't raiding the fridge, but stocking it.
The students were taking part in the high school's annual Community Food Drive, with the goal of filling a Palliser Regional Schools' bus for the benefit of the Coaldale Food Bank.
Teacher Kendell Wiens says the Grade 9 students really took ownership of the event this year, dropping off bags on doorsteps across the town and then picking up bags filled with non-perishable items a few weeks later.
Goods were also donated at KAHS during parent-teacher interviews and he says staff and students got behind the project by collecting food in their homerooms. The class collecting the most items received a pizza party.
"It is great to see things like this where Coaldale comes together and see what can come as a result of that," says Wiens, who co-ordinated this year's food drive.
Community involvement is necessary for any school to be truly successful, he says.
"Knowing that you have parents that back the school – parents that have a belief that the school is doing good things­ ­– that makes our job as teachers a lot easier," Wiens says.
While helping form a sense of community is important, he says the drive also highlights the needs of the food bank in Coaldale and provides an opportunity for the students to be good, global citizens.
"I think it's important getting awareness out there for the food bank and letting our students know that we can help our own in this community," says Wiens.
Although KAHS has held a food drive for more than 15 years, this was his first as a teacher. He graduated from the high school in 2010, and joined the staff there just this year. As he was finishing up university, Wiens says he was keeping a close eye on any job postings at Kate Andrews High School.
"Coaldale has definitely always been home to me," he says. "There's a strong sense of community and if I can build into that, that's what I want."