Lethbridge College Post Secondary Event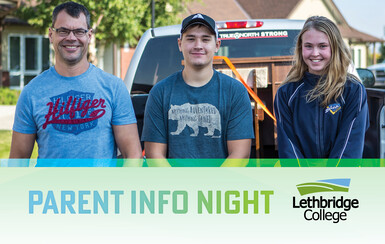 We understand how important support is for students embarking on their post-secondary journey. Often, their primary support comes from you – their family!
Lethbridge College is pleased to host a 45-minute online session from 6:30 p.m. to 7:15 p.m. on Wednesday, May 19, to provide parents and guardians with an overview of what to expect from and for your future post-secondary student. We will address some of the concerns you may have, and we'll review the supports we have in place to help your student meet their goals. We'll also provide you with some ideas on how to BE READY to support your students in their transition into post-secondary education. This event is open for parents and guardians of students in grades 11 and 12 and their students.
Attend the event live for a chance to win a gift from Lethbridge College. Register at: https://www.tfaforms.com/4898574?tfa_2100=palliser