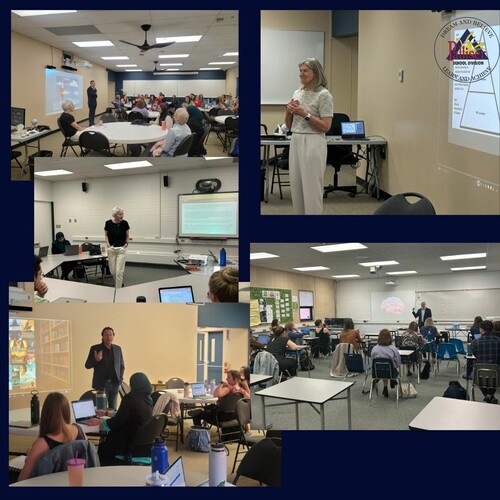 One of Palliser School Division's literacy goals is that "staff will create opportunities to share and celebrate literacy learning", and that is precisely what happened at today's Literacy Symposium. "This year, it was important for us to connect and share how we can carry out foundational areas of literacy in engaged and balanced ways", says Dr. Adam Brownign, Director of Learning for Palliser. 
Leaders in literacy from our Division gathered to hear and learn with leading experts in the field.  The list of topics and speakers was very rich and included talks on the science of teaching reading, using AI as a reading tool as well as a presentation from best-selling Canadian Author, Sigmund Brouwer. 
Dr. Robin Bright and Dr. Chris Mattatall from the Faculty of Education at the University of Lethbridge were guest speakers along with Dr. Hetty Roessingh from the Faculty of Education at the University of Calgary. 
"I loved getting to learn from the best of the best," says Joanne Sanderson who teaches grade 3 at Heritage Christian Academy.  "There were so many incredible minds at the symposium and to be able to hear them speak and share what they know was invaluable.   I left with my brain buzzing with all the things that I want to try in my classroom"!
Palliser School Division has many leaders in literacy within the division who support a large population of diverse learners. The Literacy Symposium is an opportunity for staff to connect and share resources, expertise, and strategies to help all students become lifelong readers.  The group also shared strategies and interventions to help students of any age who are struggling with literacy.  Our Division is very grateful for the sharing of expertise and enthusiasm which will help energize our teaching staff to carry out our literacy goals.