Many lessons learned through school play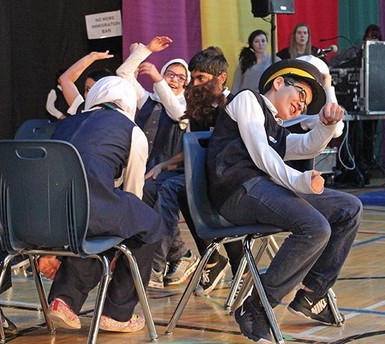 CALGARY – School plays this time of year tend to lean more towards the whimsical, than historical.
The original production put on by these particular Palliser Regional Schools students, however, dealt with a number of firsts. It marked the initial collaboration between the Calgary Islamic School, Omar Bin-Al Khattab campus, and Trickster Theatre. It was also the first time the Calgary-based, physical theatre company worked with an Islamic school.
"The History of Muslims in Canada" was entertaining for family and friends, but the aim of the play was to increase awareness among students of the many contributions of the Muslim community.
Since Muslims are not well-represented in stories, movies or even history books, teacher Sara Behairy said there was a desire to provide a greater connection for the students. In working with Trickster staff to put a script together, the students learned of Muslims who are considered pioneers in fields including algebra, chemistry and aviation.
"I think it makes us proud because a lot of us don't know our past," said Grade 9 student Kawthar Aroua. "I know I generally thought we just popped up here, and nothing really happened (before us)."
While her class looked at a sub-theme of Islamophobia and racism for their particular scene, Muhadis Choudrey and his Grade 8 classmates compared the Last Sermon of the Prophet and Canada's Charter of Rights and Freedoms.
"We were looking at the similarities and how Islam and Canadian society really fit in together," he said. "It just makes me feel closer to Canada, and closer into society, and it makes me feel more welcomed."
While the experience with Trickster Theatre lasted just a week, teacher Noreen Bashir expects the concepts the students learned will further empower them in the future. She hopes they will be more proud of their heritage and not "shy away."
"That is the common reaction, with any cultural group, when you get shunned or there is racism against you," said Bashir. "You start to feel ashamed of who you are and you start to retreat and go in another path. That is not what we want for our kids, we want them to be proud."
It's also hoped the means of delivery – including the research, brainstorming and rehearsal that proceeded the dramatic production – will help students better retain the lessons learned. 
"Every child is special and has a unique way of learning and we like to give each child an opportunity to learn in the best way they can," said teacher Ouassila Boucharif.
In preparing for the play the students touched upon several subjects other than fine arts, including math, science, social studies and language arts. From her own experiences as a student, Behairy said performing a play has other benefits as well.
"I think one of the things they expand on is they help students build their leadership skills, their presentation skills. It teaches them how to get up in front of a group of people and present," she said.
The Trickster production was made possible through a grant from Calgary Arts Development.
See images below from rehearsal and performance night.