Master's College robotics students qualify for world championships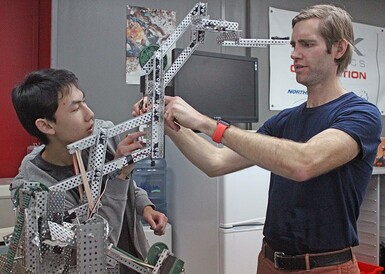 CALGARY – Robotics teacher Curtis Arends has such faith in his students that he booked hotel rooms for the world championships before their provincial qualifier.
His Master's College students proved they belong on the world stage, and he says the success of the Palliser school's robotics program may owe as much to attitude as aptitude.
The course itself is only open to students in Grades 7-9, but the robotics club – which is involved in the competitive side of things – includes older students who have already moved through the ranks. That leads to plenty of collaboration in the close quarters of the modular classroom/workshop they call home.
Arends makes a note of pointing out the club motto is: "Let each of you look not only to his own interest, but also to the interest of others." 
"It's not about how you do specifically, but how you are impacting others. . . " he says. "How you are putting others first, and how you are helping others experience the best that they can be."
It's about truly wanting to see others succeed, says Grade 12 student Jordan Pham. He notes some of the first and second-year students who are more advanced in their robotics than he was at the same point.
"I am really excited to see where they end up and how they fulfill their potential over the coming years," says Pham, who joined the program in its infancy six years ago.
The robotics world championships is certainly an opportunity to showcase that potential. Master's sent four teams to the recent provincials in Edmonton recently with the junior high team of Ben Metz, Petr Dubovsky, Ethan Wu-Arellano, Jonathon Zhou, and Ian Wang finishing third among mostly senior high teams. That qualifies them for the world stage in Louisville, Kentucky in late April.
Going into provincials Arends felt his junior high competitors showed skills and smarts beyond their years. They performed consistently throughout the competition and their robot showed innovations not seen in many high school robots.
"They also did a great job at operating the robot with two drivers simultaneously, and having a secondary power system to ensure the entire robot could not lose power all at once," he adds.
Arends expects Master's will send a team of six to 10 competitors to the world championships, with some senior high students joining the team in support and leadership roles. The school finished in the top 25 per cent their last time at the event three years ago, and he's aiming for the top 10 per cent this time.
"The first time we went it was like totally insane how big it was," Arends says of the championship, which draws some 500 teams from around the globe. "Now that I know what it's like, I can better prepare them for it."
The benefits of that experience are substantial – a chance to see how they rank globally and rub shoulders with those from other cultures – but so is the cost. Those interested in sponsoring the Master's team can contact him at Curtis.Arends@masters.ab.ca
When asked to take on the robotics course six years ago he wasn't likely shooting for such lofty goals. With technology constantly changing, however, Arends was convinced computer programming was a necessity for students, and the younger the better.
"I really wanted to get coding out there, and robotics is a great way to see practically how your program takes shape," he says.
The Master's program – known as Eagleworks Robotics after the research and development department of the same name at NASA – began with one robot and four students. Under his tutelage, interest has grown each year with about 60 to 70 students now involved between the course and the club.
The course material is covered through two, one-hour classes per week, while those in the club have the opportunity for an additional four, 30-minutes sessions over the lunch hour per week, and three hours on Friday afternoons.
Once relegated to the back of a classroom at Master's, robotics has moved into its own modular classroom, set up with a competition arena, work benches, a fridge and a seating area where they can have lunch while they work. Most students take advantage of every opportunity possible.
"They are always begging for more time. If I didn't say anything, they would never leave," says Arends.
With an eye on a possible career in engineering, Noah Vickerson thought robotics would be a good fit. The Grade 8 student, now in his second year of the course, particularly likes the problem solving involved.
"It's about learning from your mistakes," says Vickerson. "Since the robots are quite complex, I've had lots of things go wrong. You just have to trouble shoot it, make that fix and then figure out what might go wrong for next time, and fix that too."
Among the goals at Master's College is to equip students with 'Future Ready Skills.' Arends points out robotics certainly aids that, and can provide students with career direction.
Pham agrees robotics has helped shape what he wants to do in the future. He's applied to the University of Toronto for engineering science and the University of Waterloo for mechatronics.
"My ideal job? Building, creating something that could be used in everyday life. I mean, I play the piano and it would be really neat to design something that could turn the (music) pages for me," he says.