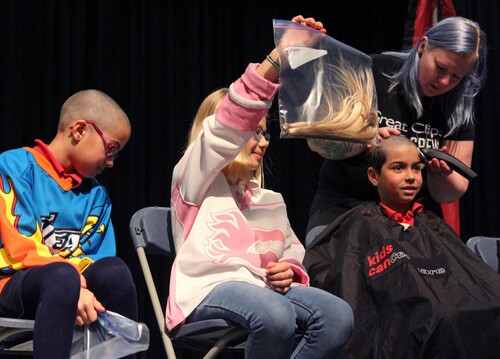 CALGARY – "Grace is one tough cookie and has kicked cancer's butt," proudly proclaimed her mother, Nancy Couldwell, before family, friends and schoolmates at Menno Simons Christian School.
The Grade 3 student hasn't been alone on her journey to recovery, however. Nancy praised the students at Menno Simons for their support, including those gathered on the stage to shave their heads or have their ponytails clipped.  She also thanked the staff for the care they have provided her daughter.
"We couldn't have hand-picked a better family than Menno Simons," said Nancy, who singled out Grace's homeroom teacher, Diesta McMillan.
Grace was diagnosed with leukemia last May and has been in treatment ever since. She experienced some set-backs, as chemotherapy resulted in her developing pancreatitis and Type 1 diabetes. Although her cancer has gone into remission Grace is scheduled to continue with chemotherapy until early August 2019, as she would most likely relapse if it was ended.
When treatment caused Grace to lose her hair, classmate Jake Lonsdale stepped up with the suggestion he shave his lengthy ginger locks.
"I just wanted to be like Grace and support her," said Jake, who never would have guessed his offer would spur a total of 14 supporters to follow suit. "I just thought I would be shaving my head, but I guess everyone else wanted to. And we raised lots of money, so I think that's good."
Once she heard of Jake's selfless vow, Nancy suggested they turn a single head shave into a fundraiser for Kids Cancer Care with a goal of $10,000. With 14 getting their hair cut – including Nancy, as well as Grace's 10-year-old, twin siblings, Josh and Emma, they raised a total of $15,085. In addition, ponytails that were clipped will go towards wigs for those who have lost their hair to treatment.
As the Great Clips crew went to work and the hair started piling up on the stage floor, the act of solidarity wasn't lost on Grace.
"It means to me that they love me and they care for me and they want to make me better and to heal me," she said.
While not surprising, the outpouring of love and generosity was overwhelming, said Menno Simons Principal Philip Knafla.
"It really shows the care and power of community that we can all come together to support Grace and Kids Cancer Care," he said.
The Calgary-based charity offers programs to children and their families at no cost, including research and hospital, camp and outreach, and educational support and scholarships. Nancy said her family has taken advantage of a number of those offerings and felt it important to give back.
"I like the camp. There's fun activities and it sort of just takes your mind off of what you are going through," said Grace.
While last-minute preparations for the shave were being made, she toyed with a lengthy string of "beads of courage." Nancy explained that a bead is added for every procedure she has to endure during her treatment. There are more than 200 black beads on the strand alone, each representing a needle poke.
"She has had 15 spinal taps and this week alone she had to take 65 pills," said mom of her youngest. "This is our new normal."
Although she has the services of a tutor through Kids Cancer Care, her teacher said Grace's attendance has been "spectacular" throughout her treatment. She so wanted to be at school with her friends, Diesta said there were times they had to urge Grace to let them know if she wasn't feeling well.
"We had to tell her, 'sometimes we don't want you to be tough,' " she said of the quiet, hard-working youngster.
With one classroom per grade at Menno Simons, Diesta said her students are like a big family. They fight like siblings and love like siblings. While Grace has been the beneficiary of her classmates' support, her teacher said those students should also be richer for sharing in her journey.
"I hope they learn that when we walk with people in celebration times, and when we walk with people throughout their pain, that's when we really build community. And that's when we really show what is important to us," said Diesta.
Also getting their head shaved or ponytail cut were: Maddy Arraf, Gabriella Bianchini, Vivian Breton, Harper Ellis, Macy Kruger, Abby Lewis, Charlie Lewis, Bella Toews, Kaylynn Toews and Kai Willms.
For more information on Kids Cancer Care, go to www.kidscancercare.ab.ca
Menno Simons Christian School offers a faith-based alternative program for students in early learning to Grade 9 in Calgary.
Mennos Simons Head Shave 2018