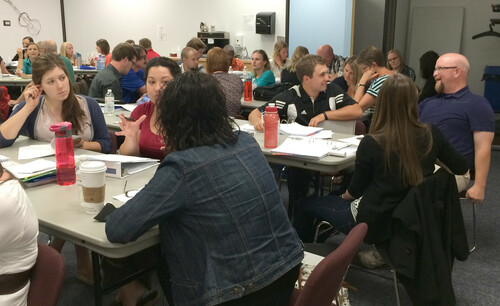 We're still nearly two weeks away from students returning to school, but the activity level has ramped up for the new school year.
This week, Palliser Regional Schools' Central Office in Lethbridge is playing host to new teachers to the profession and to Palliser as they embark on an orientation and mentorship program.
Teachers new to the profession have access to Palliser's Teacher Induction Program, offering supports and professional development in their first three years of teaching.
Today, the beginning teachers spent the day with their teacher mentors or their school administrator. Mentor teachers have been identified by their principals, and both the mentor and new teacher will be provided up to two days of release time to be used during the year for them to meet and work together.
Thank you to the 27 mentors who are sharing their experience and expertise to support teachers just starting their careers!
The Teacher Induction Program and the Teacher Orientation Program (for experienced teachers who are new to Palliser) continues Friday.
Welcome to the team, everyone!
Mentorship Day
Thank you to the mentors and administrators who spent Thursday working with Palliser's beginning teachers. With your help, our new teachers will be off and running on great careers!