Middle school students write 'Letters of Hope'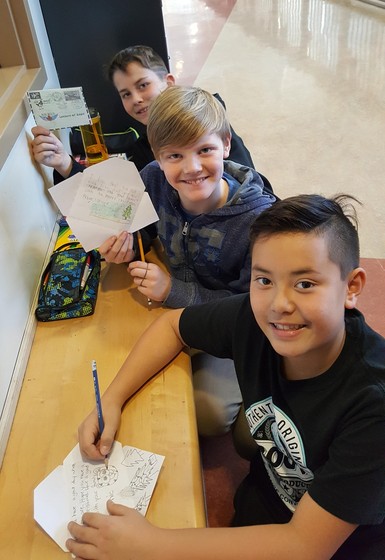 COALDALE – A recent writing exercise for R.I. Baker Middle School Language Arts students was as much an exercise in empathy as it was about efficient expression with words.
The students were writing "Letters of Hope," as part of a campaign to provide words of encouragement and well wishes for individuals receiving hospital care over the holidays.
"I'm wishing them a good Christmas and to keep up their courage," Grade 6 student Ella Kasko said, of her letter. "I'd feel sad to be there (hospitalized) over Christmas."
R.I Baker Vice-Principal Krista Gaskell, who encouraged her Grade 6 and 7 Language Arts students to participate in the letter writing campaign, said she introduced the letter project by talking with students about how Christmas isn't a joyful time for everyone.
"We talked about how it can be a hard time for some people," she said, adding the letters brought out students' sensitive side. One student, for example, reminded the recipient "There's only one you."
"It's that sensitive side we don't usually see," Gaskell said.
Several of the letters were quite touching, she said, adding "I'll cry and I'm not in the hospital."
"On this Christmas Day, I give you hope, love and caring," stated one letter, carefully folded to create its own envelope.
Students Nic Unger, Carson Bartsch and Ben Dyck worked together on their creations, borrowing each other's markers and crayons as they decorated their letters.
Dyck said he thought about "what kind of kid or adult would get" his message.
"I was trying to think of something nice to say," Unger said. "I'll feel happy that I made someone else's day."
Principal Jason Prebushewski said "Letters of Hope" is a great opportunity to give students a purpose for their writing, "and the empathy just comes out."
The letter campaign was organized by Alberta Health Services, Volunteer Resources, in conjunction with the Operation Christmas Stocking Project. Messages from students in Lethbridge and area will be included in Christmas stockings presented to individuals in Alberta Health Services facilities on Christmas Day.
The concept owes its start to last year's annual Chinook Regional Hospital Foundation Christmas Tree Festival. A tree decorated by the University of Lethbridge Bookstore was covered with letters from children which were then delivered to hospital patients.