Milo students remember one of their own 70 years later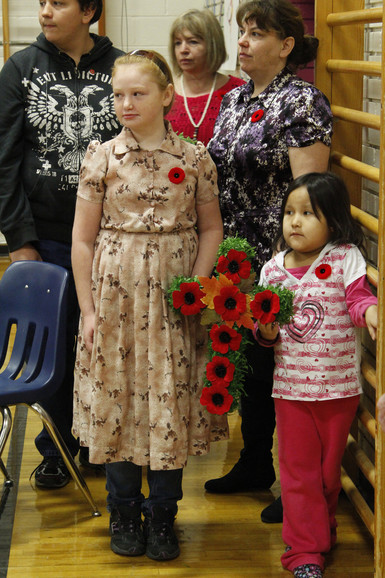 Students from Milo School gathered Thursday to honour Canada's veterans, and learn more about a hometown war hero long since passed.
A seven-minute documentary about Harlo "Terry" Torger Taerum was shown during the community event, documenting the Milo School graduate's pivotal role as a member of 617 Squadron and the celebrated Dambusters. During Operation Chastise in May 1943, 19 Lancaster bombers flew a top-secret mission aimed at destroying three dams in the Ruhr Valley. The mission succeeded at destroying two dams and damaging the third.
Taerum was hand-picked to serve as the lead navigator on the mission, considered one of the most daring air raids of the Second World War. He received the Distinguished Flying Cross for his exceptional navigational skills that safely guided the Lancasters at such low altitudes that navigational equipment would not function. Instead, the southern Albertan used a compass, landmarks and the stars as his guides.
While the video documented Taerum's heroics with Bomber Command, two of Taerum's school mates in attendance at the ceremony reflected on their own memories of the wartime hero.
Harold and Janetta Northcott both knew Taerum in his school days, when he was known as "Torger."
"He was a top guy," recalled Harold, a still spry 95-year-old. "We played football together."
Janetta, who attended Milo High School with Taerum, remembered him as an excellent student who had "such a heavy load to carry."
Taerum was the oldest of four children and was just 11 when his father drowned in Lake McGregor. Though still just a boy himself, Taerum helped his mother Hilda run the family farm. Janetta remembers Taerum riding his bicycle to and from the Milo High School every day from a farm nearly 10 kilometers out of town, doing farm chores at home, and still managing to be an excellent student.
Harold, who was a couple years ahead of Taerum at Lake McGregor School, an elementary and junior high, recalls Taerum arriving at school on a horse pulling a simple two-wheeled cart. In the cart were his three younger siblings who were too small to make the nearly 6.5-kilometre route to school.
The Northcotts' daughter Kathy said it's wonderful to share Taerum's story with students at Milo School.
"Here he was, just a kid from Milo," Kathy said.  "It shows we can do great things and we can make a difference."
He wasn't the only war hero celebrated at the event. Grade 8 students, John Bertschy, Nash Nelson and Chris Thornley, shared their research into other Canadian heroes, including First World War pilot Billy  Bishop.
Adam Prentice, a Grade 7 student who carried the Canadian flag in the ceremonial colour guard, said it was interesting to get to learn about Taerum and the Dambusters.
Prentice, who recently joined the air cadets, said he couldn't imagine what it must have been like for Taerum to be shipped off to war in Europe.
Taerum was killed when his plane was shot down in September 1943. He was just 23. His younger brother, age 18, also was killed in action.
About 30 members of the community stayed following the remembrance ceremony to watch a BBC documentary "The Dambusters 70 Years On." The event was co-sponsored by Milo School and the Lions Club of Milo.