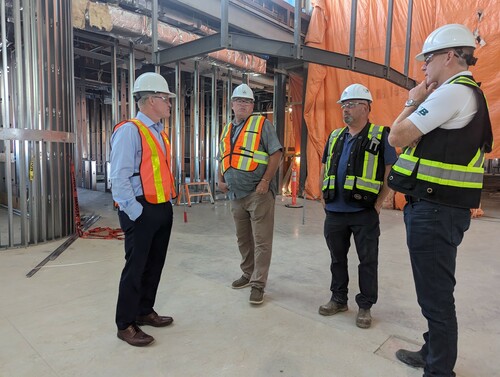 Taber-Warner MLA, Grant Hunter, recently paid an exciting visit to the construction site of the upcoming Coaldale School and Recreation Center. The project has reached a thrilling stage, with preparations for the flooring underway, the installation of glass and windows in progress, and the upcoming asphalt paving of the parking lot. Additionally, work on the rec center's floors is already in motion, and the exterior cladding is being applied to prepare for the cooler months ahead.
This state-of-the-art school is set to serve students from grades 7 to 12, acting as a replacement for Kate Andrews High School. One of the most remarkable features of the school's design is its modular concept, incorporating movable walls that will facilitate collaborative projects among students. Furthermore, the school boasts a sophisticated black box theater, seamlessly adjoining the band room. It also houses cutting-edge science laboratories, a fully-equipped woodshop, a cosmetology classroom, and a commercial kitchen.
The school is scheduled to open its doors to eager students in September 2024. Mr. Hunter plans to revisit the site in the spring to witness the project's progress firsthand.
MLA Grant Hunter Tours Coaldale School