Another step forward for new Huntsville School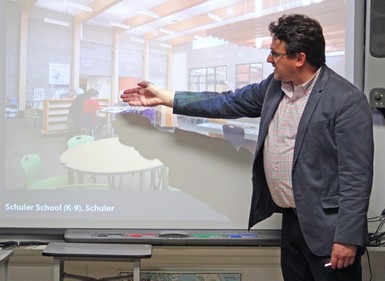 IRON SPRINGS – Schools are the hub of many rural communities. Design planning for the new Huntsville School is providing an opportunity for even greater involvement on the community's part.
Community partners were invited to provide input as to their priorities for a new school during a visioning session hosted by Palliser Regional Schools and Ferrari Westwood Babits Architects. They also heard possibilities for greater community utilization of the building, which could be complete by the fall of 2020.
The goal of the exercise was to come up with a design that will meet the needs of Palliser students and the community as a whole for years to come. Taking part were parents, school and Central Office staff, and representatives of the County of Lethbridge and Alberta Infrastructure. Local business leaders had also been invited.
Principal Chris Spanos said the staff was "very excited" to start moving forward in the process and had been looking forward to the first opportunity to work together since the province announced last spring that the project had been bumped up from a modernization to a replacement.
The architects provided participants with some of the design features they've incorporated into other school projects they've been involved with recently. Some of those included schools smaller than Huntsville, which has a growing enrolment of almost 140 students from kindergarten through Grade 9.
Architect David Cocks pointed out donations allowed for a commercial kitchen to be installed and greater community usage in Schuler, a school near Medicine Hat with a capacity of 125 students.
If a commercial kitchen is something the community would value, either now or in the future, Facilities Services Supervisor Darren Stocker said plans should include the required infrastructure, like proper ventilation.
Cocks said other communities have raised funds to expand on the base level the province provides for things like gymnasiums. He pointed out the allotted gym space in the new Huntsville School will already be twice the size of the gym in the existing building, which dates back to 1941.
Participants heard the school has been approved for a solar power initiative. While there must be an educational component to that project, Palliser is also looking for ways the community might benefit from it.
A popular feature incorporated into many new schools is a large gathering area, where staff and students can come together on an informal basis daily. It also provides a sense of community when visitors first walk through the doors.
"We have to realize that your education experience is not just learning your numbers and reading and the rest of it," said architect Dan Westwood. "A lot of the reason we come to school is to learn to work with others and to become socialized."
Gathering spaces and other multi-purpose rooms found in many new schools are often achieved through flexible design. Movable walls and the like are great, said Cocks, but they are expensive and take away from money that might best be spent elsewhere, if they aren't truly valued by the school and larger community.
The architects hope to bring back a draft design for the new school within a matter of weeks to see if they properly interpreted the feedback they received.