Noble Central School students learn lessons for life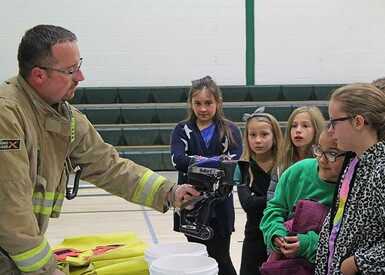 NOBLEFORD – Their new-found knowledge won't be assessed through any pop quiz or achievement test, but the lessons learned by elementary students at Noble Central School are no less valuable.
In fact, the information shared with about 150 kindergarten through Grade 6 students could save their lives. Thanks to several community partners, the Palliser school hosted its first-ever Health and Safety Day recently.
When approached about the possibility of such an event, Principal Greg Rollingson says it seemed a perfect fit.
"The safety of our students is always the first priority at Noble Central School," he says. "We are always trying to bring in valuable educational programs, because we know it will serve our students and our community both in the short term, and in the long run."  
Kindergarten teacher Ethel Langhofer had proposed the health and safety fair after experiencing a similar event at John Davidson School in Coaldale last year.
"We have a rural population out here and a lot of the children who do live in town, their parents are affiliated in some way with agriculture and other health and safety organizations," she says.
The event saw community representatives – including Alberta Health Services, the charitable organization Ag for Life, and Nobleford & District Emergency Services – cover topics ranging from chemical safety and fire escape plans, to the importance of hand washing and bicycle helmets.
The young students followed a rotation to the various exhibits situated in the school gym, classrooms and the parking lot. The fact they could practise brushing a giant set of teeth, do the 'stop, drop and roll' to put out fake flames on their clothing or visit other interactive sessions wasn't lost on Langhofer.
"What we know about children is they're the kind of people that learn by seeing, hearing and touching, and we got to do that today," she says.