Palliser announces vice-principal at County Central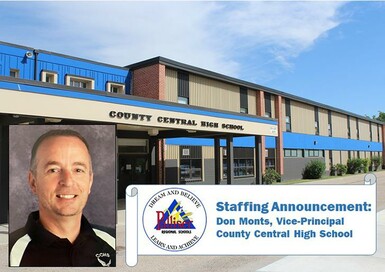 Palliser Regional Schools is pleased to announce that Donauvon Monts has been appointed to the role of vice-principal, County Central High School in Vulcan, commencing July 1, 2020.
Don graduated from the University of Alberta in 1993 with a Bachelor of Education degree specializing in Physical Sciences with a minor in Physical Education.
In the fall of 1993, Don began his teaching career with The Palliser School Division with his first assignment at County Central High School where he taught Grade 11 and 12 Chemistry and Physics. An avid athlete, Don was instrumental in the setup of County Central High School's Hockey Program. Don has been involved with administrative support and during the 2019-2020 school year, he also was appointed as temporary vice-principal for County Central High School.
Don has been very actively involved with Alberta Education's diploma examination and assessment by taking part in writing and marking. He has participated in multiple item writing sessions, worked as a marker, table head and finished as a supervisor for marking sessions until the written component of the science diploma was removed a few years ago.
A highly motivated educator with extensive and varied experience teaching science, Don believes in fostering student achievement, creativity and enhanced learning by providing students with an engaging and stimulating learning environment.
"By fostering effective relationships with students and providing an inviting classroom environment, where all students can be successful, is key," says Don. "Building relationships will be a focus going forward as vice-principal, not only with students and staff, but with other stakeholders in the community."
Don is looking forward to continuing to build on strong relationships already established within the County Central High School community and is excited to re-engage with staff, students and families in the new school year.
You may have seen Don working in his other avocation, as he has been an active referee in both basketball at the Canada West level and hockey locally for the past 25 years. What he enjoys doing most in his spare time, however, is visiting his three grown-up daughters and their families and spending time with his two grandchildren.
Congratulations Don!