Palliser plans events leading up to National Day for Truth and Reconciliation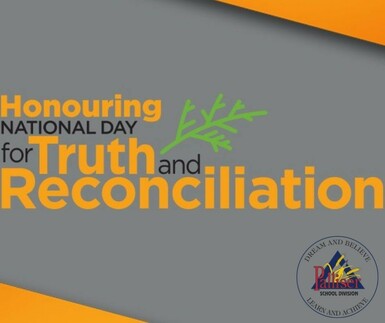 This year Orange Shirt Day coincides with the first National Day for Truth and Reconciliation – a new federal statutory holiday that recognizes the colonial legacy of residential schools while honouring Indigenous survivors.
Although Palliser Division's schools will be closed on September 30, events are still planned, with the Divisions Indigenous Education Team supporting the journey in schools.
"Leading up to September 30, different concepts around truth and reconciliation will be taught to all students across our Division as we have done in the past several years," Adam Browning, Director of Learning, Palliser School Division, says. 
 "In addition to the activities planned in schools this week, this important work around reconciliation and commemorating the residential school experience is work that will be ongoing throughout the year," adds Dave Driscoll, Superintendent, Palliser School Division.  
During the week of September 27, students in Huntsville School for example, will engage in a variety of school-wide activities, including a Medicine Wheel Feather Art Project where students will collect twigs and sticks to make a multi-media medicine wheel. As well, students will participate in a nature walk, where they will record observations from an Indigenous perspective.
Divisional school, RI Baker, in consultation with Elder Bruisedhead, will be honouring National Day for Truth and Reconciliation on October 1, by giving the school a secondary Blackfoot name. Following the ceremony, students will be given the opportunity to take the information and what the name stands for, and create a Blackfoot school logo. This secondary Blackfoot name and logo will be displayed throughout the school for students to reflect on throughout the year.
In addition to observing the National Day for Truth and Reconciliation, schools across the Division will continue to participate in Orange Shirt Day, as a way to honour residential school survivors who did not survive and their descendants. This day will be used as an opportunity to engage in meaningful conversation as a way to come together and recognize past transgressions towards Indigenous people.