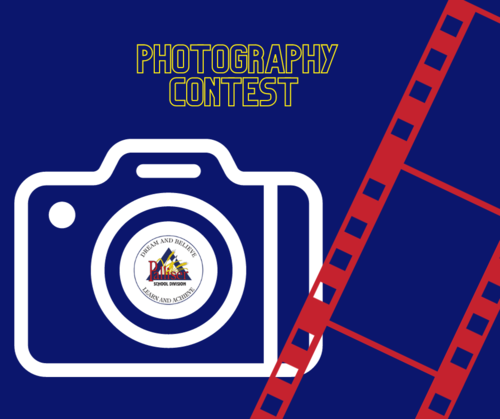 Calling all students and staff of Palliser School Division! Get ready to unleash your creativity and showcase your photography skills in our exciting photo contest. We're on a quest to capture the vibrant spirit and sense of community within our schools. Join us as we celebrate the beauty, diversity, and talent that make our division truly special.
Contest Details:
Submission Period: The contest will run for 6 weeks, allowing participants ample time to capture remarkable moments.
Eligibility: Open to all students and staff within the Palliser School Division.  Only students will be eligible for prizes. 
Here are some category ideas: 
School Pride: Capture the essence of school spirit and pride. 
Land-based Learning: Learning outside the classroom through Indigenous traditions and ways of knowing.
Nature's Splendor: Showcase the beauty of the natural world surrounding our schools
Unity in Diversity: Celebrate the multiculturalism and inclusivity within our school community. 
Learning in Action: Highlight the joy and excitement of learning in classrooms, labs, or extracurricular activities. 
Friendship and Fun: Capture candid moments among students and staff.
Architectural Interests: Photograph the unique architectural elements or landmarks in our schools. 
Community Engagement: Illustrate the active involvement of our schools within the local community. 
Embracing Change: Depict how our schools adapt to the ever-evolving world around us.
Cultural Connections: How does your school celebrate traditions and culture?  
Submission Guidelines:
Submit as many entries as you like!
Photos must be original, high-resolution images (at least 300 dpi).
Please include a brief description of the photo and its significance to your school community
Photos must be submitted using this form: 
Black and white, other creative 
Judging Criteria: 
The submissions will be evaluated based on creativity and originality, technical skills, emotional impact and storytelling
Prizes:
Grand Prize: Overall best photo will receive a FujiFilm Instax camera and film, donated by London Drugs
Runners Up: 2 $50 gift cards to London Drugs 
Honorable Mentions: Selected photographs will be highlighted on our website and social media channels.
Promotion and Use of Photos: 
Winning and selected photographs may be used in Palliser School Division promotional materials, such as brochures, website, social media, and newsletters. Participants will be credited for their work whenever possible. 
Photos may also be displayed at the Palliser School Division main office so that the wider community will have the opportunity to appreciate the talent and creativity of our division.
Important Dates:
Contest Launch:

Sep 14, 2023

Submission Deadline:

Oct 12, 2023

Judging Period: October12-October 26 
Winners Announcement:

Nov 1, 2023
Entry form: