Palliser School Division School Board recognizes United Nations World Teachers' Day on October 5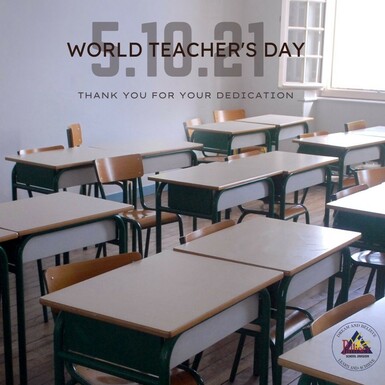 The Palliser School Division Board of Trustees is proud to recognize World Teachers' Day on Tuesday, Oct. 5, 2021, as proclaimed by the United Nations (UN) Educational, Scientific and Cultural Organization.World Teachers' Day has been held on October 5 since 1994 to celebrate teachers around the world and commemorate the anniversary of signing the 1966 ILO/UNESCO Recommendation concerning the Status of Teachers, which sets standards for the rights and responsibilities of teachers. Eighteen months into the COVID-19 pandemic, this year's theme is, "Teachers at the heart of education recovery". 
"The Palliser School Division Board values and recognizes the incredible work, dedication and commitment our teachers have made to their students, families and profession particularly during the COVID-19 pandemic," says Robert Strauss, Board Chair, Palliser School Division. 
"Our teaching staff have persevered and continue to demonstrate a desire and willingness to provide the best education to our students. Given the mental health strain the past few years has brought on many students, teachers have been sensitive and attentive to the needs of students who have been learning in-person or remotely. On behalf of the Board, I would like to express my gratitude to all the teachers who contribute making the Palliser School Division the best place to learn and lead. I encourage everyone to take the time today to express their appreciation to educators and let them know of the impact they have had on you and your life."