Palliser students experience real-life learning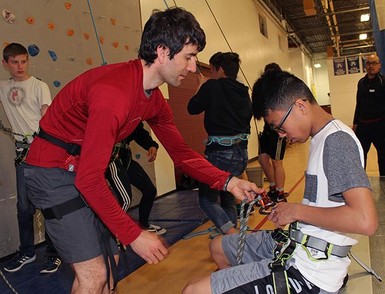 If a large part of a high school education is to prepare students for their future, Saide Birani can chalk up the experience as one well worth it.
The Grade 10 student at Calgary Islamic School Akram Jomaa Campus was among hundreds of students from across Palliser Regional Schools who took part in the recent Experiential Learning Week. The first division-wide event of its kind saw students choose from a variety of hands-on learning opportunities offered by their school, or two post-secondary
Birani hopes for a job in construction project management down the road and says his experience in the welding option at the Southern Alberta Institute of Technology should serve him well on the work site.
"If I am going to hire somebody to do a job, it's better that I understand what they're going through with that job so I'm not yelling at them because they're not getting their work done," he says, adding he also gained a better understanding of the merits of various construction materials.
The idea behind Experiential Learning Week was to provide Palliser students with the opportunity to explore learning outside the walls of a traditional classroom, says Jason Kupery, Director of Learning.
"The hope is these experiences will expose students to learning that will connect them to something they are passionate about and will promote them being lifelong learners," he says.
Danielle van Diemen opted for the Culinary Careers program offered by Lethbridge College. The Grade 10 Picture Butte High School student was also hoping to narrow down possible career paths.
"I kind of want to be a nurse – or a chef – so this experience is really helping me decide what I want to be," she says.
Avery Siebert was busy snapping photos of those culinary students cutting chicken as part of the School of Media and Design option. While the Grade 11 student from Coaldale's Kate Andrews High School has long had a "fascination" with photography, she acknowledges it will likely be a side job at best, as she pursues nursing.
Siebert appreciated the real-life learning opportunity.
"Just being able to figure out what actually makes a good photograph by doing it and figuring out how your camera works," says Siebert of the benefits. "Because you really can't do it by listening, you need to be hands-on."
Curious about what goes on in the Career Technology Studies trailers behind Heritage Christian Academy, Camron Janzen chose the Calgary school's stained glass option.
"I think the image in my head of all the colours and what I could do, I think that's what really caught me," says the Grade 10 student, adding the craft was not as easy as he had imagined. "In my head, I would just cut it out and put it down, but there's a whole lot of grinding and it's a very slow process."
Adara Hogan is considering a possible career in law, but went a decidedly different route in choosing the outdoor cooking and tree planting option offered by Coalhurst High School. She got a chance to get her hands dirty as students planted trees around the school after arborists shared insights into their trade.
"I didn't realize how much work actually goes into tree planting. I thought it was just kind of dig a hole and throw a tree in," says the Grade 11 student.
Grade 12 student Kayla Ruzic took the Flair course (beauty/esthetics) at Heritage Christian Academy because she'd like to turn a love of doing hair and makeup into a career.
Schoolmate Nadja Kunz, however, had no deep aspirations in mind when she chose "Coffee and Chocolate." She adores both, and enjoyed working with a professional barista and chocolatier.
"For me personally, it's really just for fun and getting a break from all the studying," says the Grade 11 student, who is thinking of becoming a teacher. "It's not something I would go into, but it's cool to know the history of what you are eating and drinking."
Kaiden Potterton wasn't thinking about a career either when he took the fly fishing option at Noble Central School.
"I was just trying to find something to learn, something to do over the week," says the Grade 10 Nobleford student. "I quite enjoy fishing and I like getting out of the classroom, so it was pretty fun and I learned quite a bit."