Palliser students learn fire safety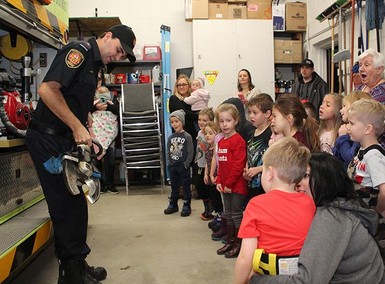 It's an awareness campaign held just once a year, but the message delivered during Fire Prevention Week likely held more than a hint of familiarity for some Palliser Regional Schools' students.
Several classes of kindergarten students from Jennie Emery Elementary School toured the Coaldale fire hall as part of Fire Prevention Week activities.
Among the students taking part in the fire hall tour was the son of Kevin McKeown, Fire Chief for Coaldale and District Emergency Services. Deputy Fire Chief Gary Gettman, meanwhile, took time to help young Lukas Gyorffy try on the turnout gear worn by his grandfather, a volunteer firefighter.
The entire class also got an up-close look at protective gear emblazoned with the last name 'Wahl' –safety equipment Ken Wahl wears when not working as head custodian at the elementary school.
The visit began with students learning fire safety messages delivered by Sparky the Fire Dog through a video on 'The ABCs of Fire Safety.' Gettman quizzed students on some of the lessons highlighted in the video before firefighter Colby Stone entered the room in full turnout gear in an effort to reduce any anxiety the youngsters might otherwise feel in the event of a real emergency.
A tour of the fire hall followed, as students learned the ranks indicated by different coloured firefighting helmets, and checked out all the bells and whistles – and flashing lights – on rescue vehicles and pumper trucks. They also saw some of the tools firefighters rely on, including the Jaws of Life and thermal imaging cameras.
Coaldale and District Emergency Services hosted an open house for the public that evening, with fire hall tours, a vehicle extrication demonstration and a chance to look at plans for the recently approved expansion of the facility.
See images below from the tour, as well as couple of photos submitted by Noble Central School of Fire Prevention Week activities there.