Palliser students learn through experience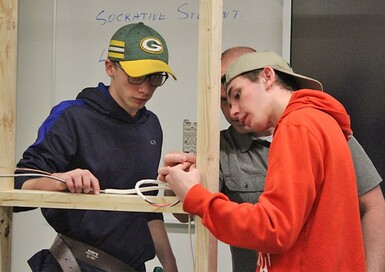 The opportunities presented to students across Palliser Regional Schools during Experiential Learning Week were numerous and varied, but there was a common theme.
The idea behind the annual event is to provide Palliser students with the opportunity to explore learning outside the walls of a traditional classroom. The hope is that the hands-on experiences will expose students to learning that connects them to something they are passionate about and will encourage them to become lifelong learners. It's also a chance to narrow down possible career paths.
Opportunities were presented to Palliser high school students from both Lethbridge College instructors on campus or at their own school through their teachers.
The college offered real-life learning applications through more than a dozen options, ranging from Exercise Science to Culinary Careers. Some allowed the students – both from Palliser and other nearby school divisions – to sample a number of different career threads through the trades and health sciences.
At the school level, meanwhile, teachers with a passion for a particular topic provided students with hands-on activities in areas including volunteerism, interior design, first-aid, hiking and meat smoking. Community resources were also brought in to provide students experience in such areas as making chocolate, vehicle maintenance and tree planting.