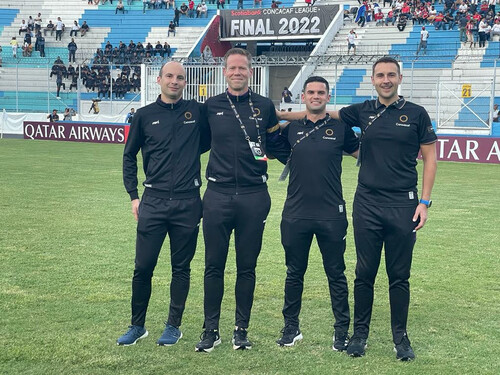 Congratulations to CHS educator Micheal Barwegen on his nomination as a finalist for Major League Soccer Assistant Referee of the Year! Among the distinguished trio of finalists, he shares, "Being nominated is a privilege in itself. To be part of the conversation among so many outstanding individuals in MLS is truly an honor."
Micheal's illustrious journey as an assistant referee commenced at the young age of 12 in his hometown of Coaldale. His dedication to the sport has led him to officiate at prestigious events, including FIFA matches in Brazil, El Salvador, Costa Rica and Qatar, the CONCACAF Gold Cup, and even an MLS All-Star game.
Off the pitch, Micheal brings his expertise into the classroom at Coalhurst High School, enriching young minds as a dedicated teacher. After school, he shares another passion of board games, running a popular club for students. Reflecting on the parallels between his two passions, Micheal observes, "Both in the classroom and on the field, effective communication and rule enforcement are vital. It's about managing diverse perspectives and upholding neutrality and fairness, which are essential for success in all areas of life."
This year, Micheal will be a key figure in the MLS playoffs, which kicked off on October 25th and will continue until December 9th. For updates on his officiating assignments, please visit this page: https://proreferees.com/2023/11/02/2023-mls-assignments-mls-cup-playoffs-round-one/#110423
The recipient of the Assistant Referee of the Year award will be unveiled on November 14, 2023. Congratulations, Micheal! Your Division is wholeheartedly cheering for your success!