R.I. Baker students remember Michael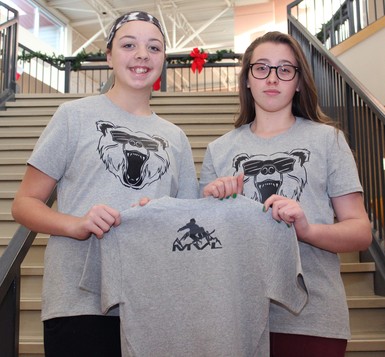 COALDALE – It's easy this time of the year for children to get caught up in the wish list mentality and think first of their own needs and wants.
On this occasion, however, the thoughts of R.I. Baker Middle School students were squarely on a friend who was taken away from them much too early, his family, and other families who will face similar challenges in the future.
The family of former schoolmate Michael Van Liere were invited to a special assembly Friday to accept a $2,500 cheque in their name for the Ronald McDonald House in Calgary.
Michael passed away in September, just months after being diagnosed with a brain tumor. His parents, Peter and Camelia, were grateful for a place to stay close to the hospital where their child was being treated.
"What we would like the family to take away from this is that we completely support and back them with their whole experience," said Caitlin Sparrow, a member of the school's Student Leadership Council. "They have a whole community behind them, and that they are not alone in what they are going through. There are always going to be people here to help them through the hard times."
The Student Leadership Council spearheaded the Michael Project shortly after the 12-year-old's passing. Money was raised through the sale of special T-shirts and canteen items.
Peter said the students' efforts and thoughtfulness were a blessing to see.
"It doesn't make it easier, so to speak, because we live with that memory every day," he said. "But we are humbled and honoured that Michael's memory can have such a positive impact on the students there and other people around."
The comforts provided at Ronald McDonald House were especially welcomed by the Van Liere family.
"When he went through nine hour surgery, we used Ronald McDonald House to stay at, rather than the hospital. It just feels more like home, and mentally it makes it a little easier to cope with."
The Michael Project was not just a fundraiser, but also a means to show that the students remembered Michael, and appreciated the time they had with him.
Amara Klassen's family was very close with Michael's and she attended the same church and youth group as him.
"It was really sad when we found out what happened to Michael," said the Grade 8 student and Student Leadership Council member. "He was a really great guy. He had a really great personality and he was just nice all around."
Michael loved animals, woodworking and outdoor activities, especially snowboarding. One of his motivations, upon learning of his diagnosis, was to return to school in time for R.I. Baker's annual ski trip. The commemorative T-shirts being sold feature the school's bear mascot on the front, and a tribute to Michael on the back, with a snowboarder soaring over the initials MVL.
Teacher Dawn Berry-Furtado said Micheal's sudden passing hit the student body hard, with many experiencing that kind of loss for the first time. Since not everyone could attend his funeral, the Michael Project also provided a sense of closure for some.
With another R.I. Baker student diagnosed with cancer more recently, she said the donation to the Ronald McDonald House will live on.
One of three staff members working with the 20-strong Student Leadership Council, Berry-Furtado said it was "phenomenal" to see how they rallied around the cause.
"Seeing them there at every lunch hour – they were even there before we could get there – setting up tables and getting goodies and the cash box out. . . It warms your heart, it really does," she said.
The students wanted to thank the Logomotives Group, Coaldale Dairy Queen and Nicole Daminato for their contributions to the Michael Project fundraisers.
Amara Klassen, left, and Caitlin Sparrow, both member of R.I. Baker Middle School's Student Leadership Council, show off the shirts they are selling for the Michael Project.