School puts Terry's journey in perspective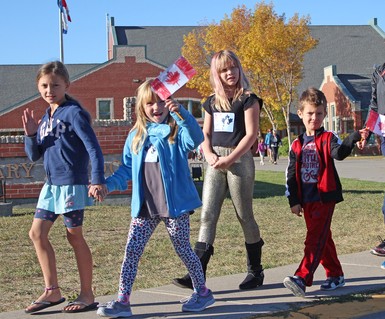 COALDALE – For a generation very much focused on the here and now – and the immediate future – it can be a challenge to pique their interest in the past.
While the legendary courage and determination of Terry Fox has endured, his Marathon of Hope began more than 35 years ago. That interrupted journey ended before many of the parents of Jenny Emery Elementary School's 420 students, and some of the staff, were even born.
Vice-Principal Kristi Van Doesburg says the Palliser school tried to make this year's Terry Fox Walk more relevant by focusing on a quote of his: "Anything is possible if you try."
"What we're doing to put it into perspective in their world is we're making them reflect on things that have been really hard for them and obstacles they've gotten through by working really hard," she says. "And then of course we give Terry Fox as the ultimate model for that."
An assembly before the walk included a video presentation of staff and students sharing a goal they were able to achieve due to their perseverance.
Students talked about overcoming obstacles to learn how to climb the monkey bars, ski or ride a horse. A staff member recalled the frustration, and a times embarrassment, of a recent summer when her father bought a boat and everyone in her family had learned how to wakeboard, but her. With a little encouragement she finally succeeded on the last boating trip of the season.
To better acquaint the young students with Terry, the assembly kicked off with a video recounting his inspiring story.
After losing his right leg to cancer, Terry vowed to run across Canada to raise funds for cancer research. His Marathon of Hope began April 12, 1980 in St. John's, Newfoundland and ended 143 days and 5,373 kilometres later, just outside of Thunder Bay, Ont.
Terry was forced to stop his run after cancer invaded his lungs. He died on June 28, 1981, just a month shy of his 23rd birthday. 
"It's got to keep going without me," offered Terry, at one point in his run. His dream has carried on, and last spring the Terry Fox Foundation announced that more than $715 million had been raised for cancer research in Terry's name.
In the days leading up to Jennie Emery's Terry Fox Walk, Van Doesburg says teachers were encouraged to use the resources available to them to bring Terry's story a little closer to home. Some had their students take stickers home – "Terry Ran For Me. I am running for ____"and fill them out as a family.
"I can imagine the conversations they are having at home, while they are writing the name and having discussions. That for sure makes it personal," she says.
Staff and students across Palliser Regional Schools kept Terry's dream alive and helped raise money for cancer research through similar events. See some of the submitted images from those schools below.
For more information on Terry Fox go to http://www.terryfox.org/