Skills competition fills students' tool boxes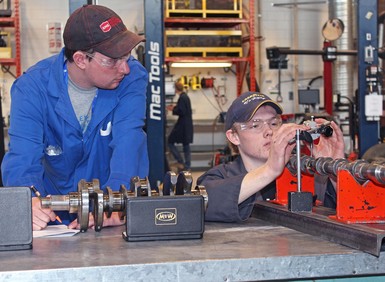 LETHBRIDGE – A shiny medal and a trip to the provincials may have been the most immediate rewards, but the 2018 Regional Skills Canada Competition offered much more than that.
The 17th annual event allowed more than 100 high school students from across southwest Alberta the opportunity to test their skills in trades and technologies fields ranging from automotive technology to hairstyling to welding.
It also offered those students a chance to 'test drive' a possible career choice under the watchful eye of industry experts, network with future employers, learn from like-minded teens and check out the facilities at Lethbridge College.
The competition, hosted by Chinook Regional Foundation for Career Transitions, featured more than 20 students from Palliser Regional Schools in Coalhurst, Coaldale and Picture Butte.  Several finished in the top three in their competition, to win medals and prizes.
Sian Hernandez of Kate Andrews High School in Coaldale competed in fashion technology and was the lone gold medalist from Palliser.
In video production, Picture Butte High School teams took second and third, with Kyle Davies and Luke Loman earning the silver medal and Joey Reimer and Casson Stroeve the bronze.
Zac Milligan and Graysen Sincennes from Kate Andrews teamed up for a bronze in automotive technologies, while schoolmates Avery Riley took bronze in culinary arts, and Elyse Janzen won bronze in photography.
The top performers in each of the 13 competitions qualified for the provincials in Edmonton. Along with Hernandez in fashion technology, Michaela Horak of Coalhurst High School also qualified for provincials in photography pre-competition.
For more information on Career Transitions, go to http://careersteps.ca/