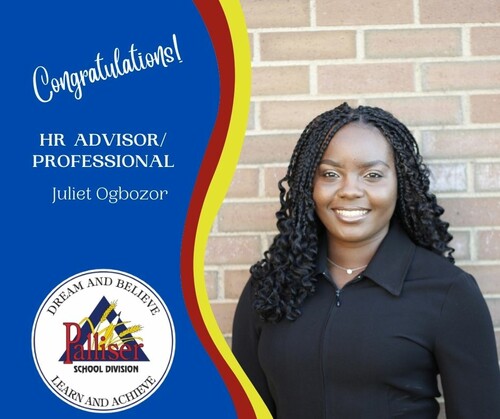 Palliser is pleased to announce that Juliet Chioma Ogbozor has joined our Division as the Human Resources Advisor/Professional. In 2018, Juliet graduated with first-class honors in Mass Communication from Madonna University, Nigeria. She began her HR career at Truparse Software in 2019, holding the position of Human Resources Payroll Administrator. Subsequently, she earned her Postgraduate Certificate in Human Resources Management and another in Management in Community Services, both from Conestoga College, Kitchener, Ontario.
Juliet brings to Palliser over 3 years of experience in records management, benefit management, staff scheduling, HR reporting, training and development, performance management, and employee relations.
Outside of work, Juliet has a passion for traveling, engaging with diverse cultures, and spending quality time with family and friends. She is deeply committed to community service, often volunteering for non-profit organizations to help foster an inclusive community for everyone.
Juliet is excited to be a part of the Palliser Team. She is eager to continue her learning journey, expand her HR expertise, and build strong, collaborative relationships with staff in the Division. 
Welcome, Juliet!