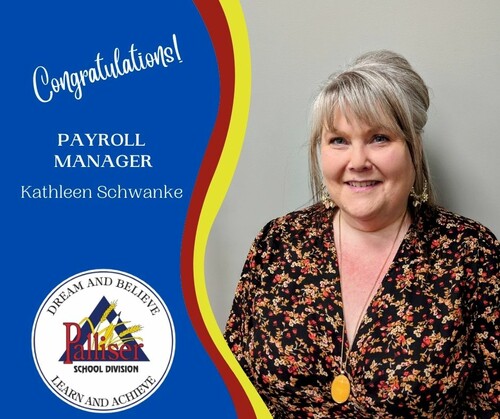 Palliser School Division is pleased to announce that Kathleen Schwanke has accepted the role of Payroll Manager.  
Kathleen is a highly skilled payroll specialist, who puts 110% into her work. She was recently a payroll supervisor at Lethbridge College. 
When she is not busy writing cheques, she loves to spend time with friends and family. In her spare time, you can find her at the farmers market supporting our local entrepreneurs, or wandering through a clothing store finding treasures.  She loves to be active dancing, hiking, playing billiards, or practicing her axe throwing skills. Her ultimate favourite activity is attending a weekly book club meeting with her besties.
Kathleen's biggest achievement is single-handedly raising two beautiful children. She loves her family, fur-babies, and extended families. Although she is yet to be blessed with grandchildren of her own, she loves to spoil those of others.  Kathleen is authentic, enjoys a good laugh, and is compassionate about life. Her door is always open, so stop by and say hello!
Welcome, Kathleen!