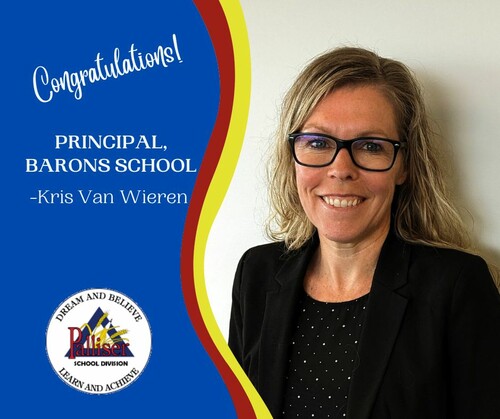 We are pleased to announce that Kris Van Wieren has accepted the role of Principal at Barons School, commencing June 30, 2023.
Kris has been the Principal of Carmangay School for the last two years and has built a wonderful relationship with the students and community there.  
Kris started her teaching career in Alberta after completing her Education Degree in Biology and Physical Education from the University of Victoria in 2001.  She taught at Picture Butte High School and Noble Central School until 2003 when she took a position as a Learning Support Teacher in Lethbridge at both middle and high school levels.  During this time she completed a Master of Education Degree in School Leadership and Administration from Gonzaga University.  
This led to her first leadership position and back to Palliser School Division where she served as Vice-principal of Kate Andrews High School for four years before her move to Carmangay School.  
Kris has a rich variety of teaching experiences to draw on and has supported many different learning needs.  Genuine relationships with students,  built on trust and respect have been foundational to her approach to education.  Her most recent leadership role in Carmangay has taught her valuable lessons in communication, team building, and instructional leadership. Through her experiences, Kris has also gained a deeper understanding of the challenges and opportunities that arise in small, close-knit communities and the importance of adaptability and resilience in leadership.
Kris looks forward to maintaining a safe, supportive, and inclusive learning environment where every student can find success and thrive.  She is excited to grow and learn from Barons staff and students while supporting a creative and caring school culture of learning.  Kris also appreciates the continued opportunity to work collaboratively with all the families to support the Low German Mennonite culture and interests of the school community.  
Kris is happy to call Southern Alberta home.  She is very active and enjoys running, skiing, hiking, and traveling with her family.  Congratulations, Kris!