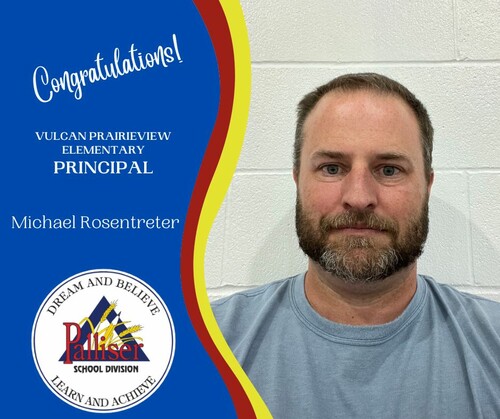 Palliser School Division is pleased to announce that Michael Rosentreter has accepted the role of Principal at Vulcan Prairieview Elementary School, effective September 30, 2023. 
Michael joins our Division from Drayton Valley Community Outreach School where he served as Principal since 2018.  He has been teaching since 2005 and transitioned to leadership in 2013 as Vice-Principal at HW Pickup Jr. High School. 
Michael is proud to have implemented a collaborative response model during his time at DVCOS.  He also coordinated extracurricular programs, health and wellness initiatives, and fostered an open environment at the school to involve and engage families and the greater community.  
He earned his Bachelor of Education and Masters in Educational Leadership from the University of Lethbridge.  
Relationship building is core to Michael's leadership, "Relationships are critical in education. Students are much more likely to respond to a teacher, adult or peer if they have a positive relationship with them. Schools that strive to build positive relationships and promote a safe caring environment perform well," notes Michael. 
As he steps into his new role, Michael eagerly anticipates acquainting himself with the remarkable 
staff at Vulcan Prairieview Elementary. Equally exciting is his ambition to become an integral part of the vibrant school community and to engage with students and their families.
Michael is coming down with his wife, also a teacher, and his two children. If you ask him what his hobbies include, he will tell you 'whatever his children are into'. What his children are into is hockey, lots of it. Outside of that, Mike enjoys spending time with his family and friends, exercising, and trying to be as active as possible. He is very excited to be joining Vulcan Prairieview Elementary School.
Congratulations, Michael!