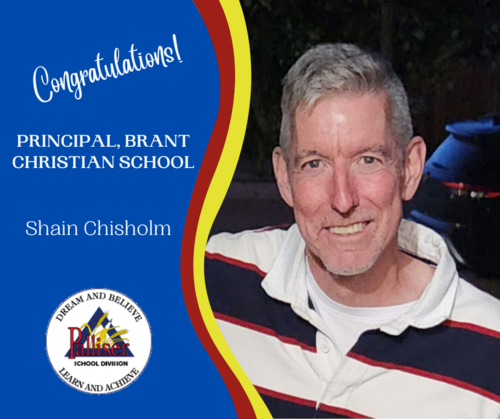 Palliser School Division is pleased to announce that Shain Chilshom has accepted the role of Principal at Brant Christian School.  
Shain has been a member of the Brant Christian School community for 7 years, first as a parent then as a teacher.  His experience has given him a rich understanding of the culture and needs of the students, staff and parents.  
Shain earned his bachelor degrees from Laval University and his masters from Simon Fraser University.
He began his career in education with a teaching position at Burnsview Secondary in North Delta, BC He has taught K - 12 with a focus on middle and high school humanities.   He was a faculty associate at Simon Fraser University working with student teachers in their final year of teacher education. He was honored with the Prime Minister's Award for Teaching Excellence in 1998.
His venture into school leadership commenced at Rainbow Lake School in Rainbow Lake, Alberta, in 2013, where he served as principal for a K-12 school accommodating 160 students. He has also excelled as an instructional coach, facilitating professional development, team-teaching, resource acquisition, and unit planning for K-9 teachers.
Shain ignites student engagement through dynamic projects that extend their learning boundaries. He has orchestrated fundraising and awareness campaigns for global hunger issues. Moreover, he spearheaded a community-building initiative in which students masterminded and constructed an expansive town center gazebo.
In his capacity as Principal at Brant Christian, he eagerly anticipates continuing his role as a staff mentor, fostering connections with both novice and seasoned teachers.
In his spare time, he loves to travel with his wife and children.  He enjoys snowboarding with his sons and playing rugby with his daughter.  He also golfs, enjoys home reno projects and is always reading and learning.  
Congratulations, Shain!