Student leaders find inspiration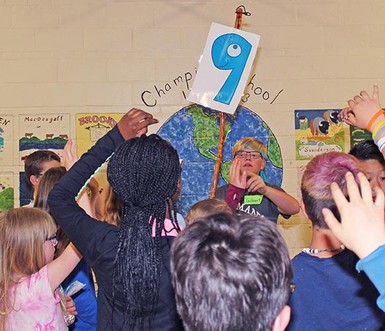 CHAMPION – Meghan Pooley may have had a leg up on some of her peers at Palliser Regional Schools' Elementary Leadership Day.
The theme of this year's event was "Finding Your Passion," and the Grade 6 student from the host Champion School didn't have to do a lot of searching in that regard.
"I really love to cook and bake so I have developed a little bit of a company, selling cupcakes and stuff," says Pooley.
That doesn't mean she left the leadership conference empty-handed. Each of the more than 200 Grade 4-6 students had the opportunity to attend breakout sessions provided by Palliser staff and community members who shared their passions.
"I really liked the goal setting one because for me goal setting is really hard," says Pooley of her session with marathon runner and inspirational speaker, Martin Parnell. "It was really cool to see that process from a different perspective."
Presenters shared with students some of the things they are passionate about, including the arts, technology, acrobatics, athletics, gardening and even board games. They heard first, however, from keynote speaker Parnell.
He told students and staff there are many ways to discover something to be passionate about. In his case, it was as easy as saying 'yes' to something new.
Taking up his brother's challenge to run his first marathon at the age of 47, Parnell has become a world-class endurance athlete. He once completed 250 marathons in a single year, the equivalent of 10,550 kilometers, or 12.9 million steps.
"I was just so happy that I finally found something I could do," says Parnell. "I'd found my gift. I'm very good at long, slow, boring things. I'm one of the best."
Marathons would turn into triathlons – even though he couldn't swim when he first took on that challenge – and then ultra distance events of up to 100 miles. He also set five Guinness World Records and climbed Mount Kilimanjaro in 21 hours.
Along the way, Parnell raised more than $1.3 million for Right to Play, a humanitarian organization that uses the power of play to educate and empower children around the world facing adversity.
"It's all great to find your passion, but what do you do with it? I wanted to use it to give something back," says the 62-year-old, who's since taken up the call to help open up sports for women and girls in Afghanistan.
Zoe Posein's favourite session at Elementary Leadership Day was TechVibes, put on by Palliser staff Jason Kwasny and Tylor Faoro.
"We learned how to take apart a computer without breaking anything or anything falling apart, and then we got to put it back together," says the Grade 5 student from Vulcan Prairieview Elementary School. "It was just cool to do."
Bilal Bona learned how to set goals to better himself. The Grade 4 student from Horizon Leadership Academy in Calgary says his favourite session, however, was one in which students teamed up to make a collective art project.
"I liked it because I had fun," summed up Bona.
Autumn Jackson, a Grade 6 student from Champion, found it hard to pinpoint what she enjoyed most about the day.
"I really liked it all. I really liked each session for different things and I really liked Martin Parnell and how inspirational he was," she says.
Others, like Lucia Kasper, showed no hesitation when asked what they liked best about the day.
"Lunch!" chimed in the Grade 6 student from Vulcan Prairieview.
The program also included inspirational words from Noble Central School student Molly Baumann. A member of Palliser's "Blue Team" – consisting of a handful of students from each school who organize and host the division's high school leadership conference – she spoke about her passions including family and the dramatic arts.
The Grade 11 student says finding her passions helped her express herself and build her confidence. Baumann, who thanked teachers and family members for their support, urged students not to shy away from new opportunities because the thought makes them feel uncomfortable.
"Somebody once told me, if something scares you it likely means you are about to do something great," she says.
Following the breakout sessions, students gathered with their schoolmates to come up with potential projects that could make a positive difference at their school or the larger community.