OBK students learn through play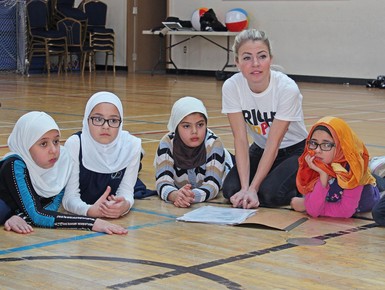 CALGARY – There were lots of activities and plenty of laughter happening in the gym at Calgary Islamic School Omar Bin Al-Khattab Campus, but it was more than just play and games.
The Palliser school recently hosted Right to Play. The global humanitarian organization works with the Government of Canada to deliver play-based educational programming to improve children's lives in 20 different countries around the world and 52 refugee camps.
Facilitator Meghan Mutrie stopped by to carry out the Play Your Part program, which helps students learn how to lead in their own schools and communities, and how to understand the positive impact their actions can have in others' lives around the world.
The program has three different components, with inspiration provided first through a full-school assembly in the morning.
A workshop followed with a smaller group of students to educate them about the power of play, boost their leadership skills, and encourage them to make change in their own communities and beyond
The final component is the Play Your Part Challenge, where the school joins more than 200 other schools across Canada in a fundraising challenge, and a chance for the students who were in the workshop to lead their peers in Right to Play games.
For more information on the program, go to http://playyourpart.com/about-rtp/