Terry Fox Run becomes personal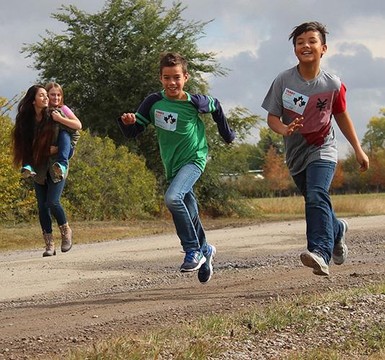 Each Terry Fox Run is another year removed from his fundraising marathon, cut tragically short in 1980.
Unfortunately, cancer continues to cut a deadly swath through each new generation. While staff and students across Palliser Regional Schools are celebrating the legacy of Terry Fox by raising funds for cancer research, many are marking the occasion with a personal story.
Some are cancer survivors close to those students, while others are honoured posthumously. Community members joined students and staff at Vulcan Prairieview Elementary School in dedicating this year's run to Mitch Malmberg.
"If we are raising money for cancer, this one's a pretty important reason," says Principal Tracy Inaba of the Grade 4 student, who passed away last April shortly after being diagnosed with cancer. "We have already lost of one of our family, we don't want to lose anyone else if we can do anything about it."
This year the school of about 200 students ordered 350 red, 'Running for Mitch' shirts to accommodate his family and friends who wanted to show their support. Staff and students at nearby County Central High School – where two of Mitch's three siblings are enrolled – also took part.
In recent runs, Prairieview honoured a staff member battling cancer. Inaba says Running for Mitch brought the reality of cancer even closer to home for the students.
"They are all very well aware of the importance of (the Terry Fox Run), now more than they ever were," she says.
Remembering Terry's legacy isn't the only message Inaba hoped her students got out of the event.
"I also want them to know they can make a difference with every little gesture they do," she says.
Staff and students of Coalhurst Elementary School walked the few blocks to Coalhurst High School to take part in a joint Terry Fox Run.
Many of the young students wore stickers explaining who they were running for. Jack Hewlett and his younger sister, Faith, were running for their father. He was diagnosed with thyroid cancer last fall and had successful surgery in January.
Prior to the run, students gathered in the high school gym to watch a video documenting Terry's story and his abbreviated Marathon of Hope.
They also learned about medical advances since Terry's death, and the fact that 80 per cent of children with cancer are cured today. The goal, however, is a 100 per cent cure rate for all. They heard more money means more research. And more research means more hope.
Jack and Faith were asked how they might raise hope in a fellow student whose mother or father are battling cancer.
"If it was the same thing, I'd probably say it's going to be OK because my dad went through it," says Jack, a Grade 4 student. "Or like, pray for them."
"To make them feel better, we could say that so they wouldn't think their mom or dad was going to die or something," adds Faith, a Grade 2 student at Coalhurst Elementary School.
Terry Fox was forced to stop his run outside of Thunder Bay, Ont. – after 143 days and 5,373 kilometres – when it was discovered his cancer had spread. He passed away June 28, 1981 at the age 22.
His legacy lives on, however, with more than $750 million raised worldwide for cancer research through the annual Terry Fox Run. For more information on Terry Fox, go to http://www.terryfox.org/terrys-story/