Tragedy of distracted driving hits close to home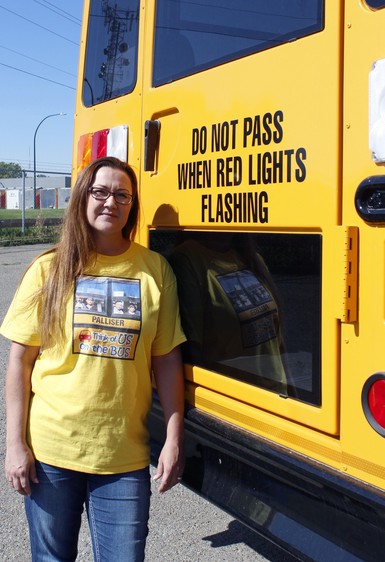 Palliser bus driver Amanda Otway hopes motorists learn from fatal collision
Nearly two years ago, a minivan travelling at highway speed hit the rear, driver-side corner of a Palliser Regional School bus as it stopped to let off a student.
The collision was more jarring emotionally than it was physically for Palliser Regional Schools bus driver Amanda Otway.
She and students onboard felt little more than a bump but the collision sent the minivan spinning on Highway 25.
The vehicle narrowly missed cars stopped in the southbound lanes before it came to rest in the ditch ahead of the northbound bus.
"I was literally about to close my door and that's when he hit," Otway recalls. "I didn't hear much. It was a little thud. I don't know if the bus even moved."
Otway called the Transportation Services shop in Lethbridge to report the collision. Another motorist called 911, and Otway began checking on her students.
With the students safe on the bus and police on the scene, Otway says she ventured out to check on the people in the minivan, finding the driver distraught, a child uninjured and a woman in the back seat, with what she guessed were minor injuries.
"There were so many different emotions in my head," she says. "Distress, anger, relief. You can't walk away from something like that unscathed. Anger was a lot of it."
It was an emotional week for Otway already, as the first-year anniversary of losing her mother to cancer was just days away.
Otway was shaken to discover the woman in the minivan — the mother of the vehicle's driver — died of her injuries two days after the collision. She and the driver, a man she's never met, both lost their moms on Oct. 21.
"My anger turned to sadness for that family," she says.
While she has empathy for the pain and loss the driver experienced, she remains incredulous that the collision happened on a sunny, clear day on a straight stretch of pavement.
"It had to be distracted driving. There was no other way it could have happened if he wasn't looking at the road," Otway says.
While the collision was a tragedy for the family, Otway says it could have been much worse.
"It could have been more than one life lost, that's for sure," she says.
"I'm blessed they do make the buses the way they do. They are a tank. I've never felt so secure in a vehicle as I do when I'm in a bus."
She hopes motorists learn from this incident.
"I have a story to tell about how easy it is to lose a life, yours or someone else's. . . Pay attention, please. Be extra courteous around the school bus. These are our children. They are the future."
These day, the cargo on her bus is all the more precious because Otway's own children are passengers.
"I always say the people who do these things (passing stopped buses or speeding through playgrounds), they must not have children or they would be stopping."
Palliser students returned to school Tuesday, Sept. 5.
In some municipalities, school buses may be prohibited from using their flashing red or amber lights. However, in all rural areas and almost all municipalities served by Palliser bus drivers, the red lights are used to warn motorists that students may be crossing. When encountering a bus with flashing red lights, traffic in both directions must stop and stay stopped until the lights stop flashing red.